In the print edition of the Gleaner, published: Monday | February 2, 2009
Lead Stories
Jamaica slips again - Country downgraded in Competitiveness Report - Crime, bureaucracy cited as major factors
An unabated murder toll and a high level of employee theft are being cited for Jamaica's increasingly uncompetitive position in the global business arena. Jamaica's competitiveness was downgraded for the second year in a row by the World Economic Forum, dropping eight places...
News
More mourning men


On January 5, we told the story of the sorrow the men of Mill Bank, Portland, were bearing after they had lost eight members of their community. The eight were among 14 were were killed in a market-truck crash at Dam Bridge in Portland's Rio Grande valley...

Business
Union urges Government of Jamaica to keep sugar factory running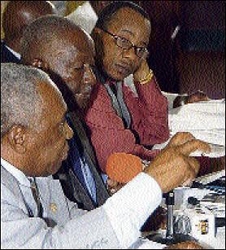 The National Workers Union (NWU) is arguing that given the socio-economic environment in and around Spanish Town, St Catherine, Government should make every possible effort to keep the Bernard Lodge sugar factory open. Vincent Morrison, NWU president and island supervisor...

Sport
Windies looking to buck trend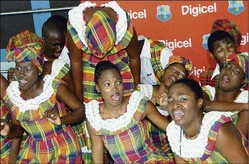 Despite England's fifth place in the International Cricket Council (ICC) rankings, with the West Indies two spots lower, West Indies coach John Dyson has cautioned that his side will be a force to be reckoned with in the upcoming Digicel Home Test series...

Commentary
EDITORIAL - Lucille Mathurin Mair, the scholar-diplomat
"A scholar of great intellectual stature, a diplomat and international public servant who worked with diligence to advance and improve the status of women, not only in Jamaica and the Caribbean, but throughout the world." That is the memory which remains of one of Jamaica's finest...
Letters
LETTER OF THE DAY - What is Air Jamaica's value to Jamaica
The Editor, Sir: I cannot help but wonder what is playing out at Air Jamaica. It seems that over the last few years, CEO after CEO and chairman after chairman have failed. Being a Jamaican and a businessman, I have a few questions for both the minister with responsibility...
Entertainment
Campbell stars his own show - Jamaican actor starts film company, set to release movies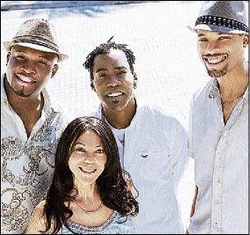 Jamaican actor Paul Campbell isn't one to mess with. Campbell, who often portrays rogue characters on the wrong side of the law, had a brush with Hollywood favouritism when he was unfairly robbed of a role last year. However, instead of adapting his onscreen persona...

Flair
Bigger than Versace?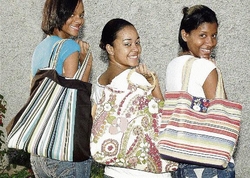 Seventeen-year-old Simone Neilson intends to some day be bigger than Versace. With some of her friends already wearing her designs, she and her Misim line may be well on their way. The Immaculate High School past student is following in her mother's footsteps...

International
Israel threatens harsh response to Gaza militants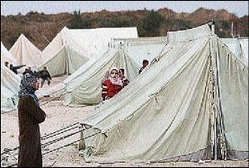 JERUSALEM (AP): Israeli Prime Minister Ehud Olmert yesterday threatened harsh and disproportionate retaliation after Gaza militants fired at least 10 rockets and mortar shells into southern Israel, wounding three and raising the spectre of a new round of violence...

Tropical Weather
Features