Bigger than Versace?
Published: Monday | February 2, 2009
Nashauna Drummond, Lifestyle Coordinator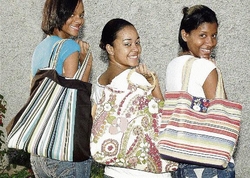 From left: Mellissa, Simone and Morgan show off their Misim totes
Seventeen-year-old Simone Neilson intends to some day be bigger than Versace. With some of her friends already wearing her designs, she and her Misim line may be well on their way. The Immaculate High School past student is following in her mother's footsteps.
"Mummy has been sewing forever," she told Flair, sitting at her simple sewing machine at the back of her home off Red Hills Road. Her grandmother was a dressmaker and her mother learned from her, but Neilson's mom only sewed as a hobby, making clothes for her children.
Her mother, Feddie, said she's just proud her daughter is carrying on the tradition of her own free will. "I wouldn't be sewing if I didn't watch my mom," Neilson added.
Now a special events management major at the University of Technology, Neilson's first creation was a bag made from an old pair of jeans four years ago. Since then, she has made pencil cases, cosmetic bags, head bands for her high school's sports day, Ipod cases, laptop bags, baby bags, phone pouches and, now, dresses. All this from a girl who once wanted to be a prep school teacher.
Events planning was also one of Neilson's loves and she helped plan her graduation ball. But, her true passion is designing, which is evident in the scissor pendant she always wears. She even designed the dress she wore to her graduation ball. "I don't have to worry about buying clothes," she notes with a smile, explaining that if she sees something she likes, she would just make a copy of it.
Designs
Unlike her mother, who works from patterns, Neilson works from the creations in her head, only making sketches when she's doing her bags. She can complete a dress in a night and a bag within a few hours.
Neilson plans to spend the Summer at her sewing machine and head off to design school after UTech. She also hopes to be a featured designer on this year's Caribbean Fashion Week. Her ultimate goal is seeing her line on the international scene. "I want to go to California and see the Misim label in the stores,"she said.
This young designer, who is also a member of the Junior Music Theatre Company (JMTC), has a black belt in Shotokan, draws and does graphic designing, maintains that her designs won't be like any other designer's.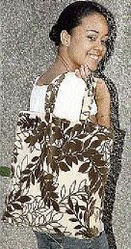 Neilson's first design was a bag from an old pair of Jeans, now most of her friends own a bag she has designed. - Colin Hamilton/Freelance Photographer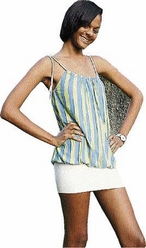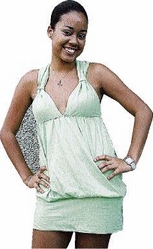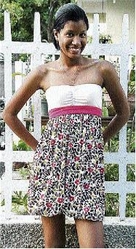 Mellissa is one of Neilson's friends who already owns a piece from Misim line. Neilson's friends love her designs and Morgan is no exception.