M Georgia Gibson-Henlin, new year, new challenges
Published: Monday | February 2, 2009
Barbara Ellington, Lifestyle Editor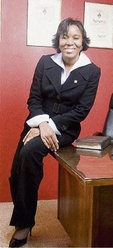 Gibson-Henlin
Attorney-at-law, M. Georgia Gibson-Henlin, a 16-year practitioner, started the new year on course for new challenges. She resumed practising with her firm Henlin, Gibson, Henlin. Called to the Bar in 1993, Gibson-Henlin is no stranger to running her own show and did just that between 1994 and 2001.
"After six years, I am back to a small-firm environment and I'm ready for the next phase of my career with all its new challenges," she told Flair.
Gibson-Henlin became fascinated with law from third-form while attending Montego Bay High School when the annual career talk made it sound like an exciting prospect for her. In the early years, she loved criminal law and thought she would become a great criminal lawyer as a result of which she spent the summers in the courts offices of Montego Bay.
Legal career
In fact, her legal career started as a clerk at the Half-Way Tree Criminal Courts. Now, she does not go near it. Her in-service training was at Gaynair and Fraser where she was supervised by noted attorneys, W. B. Frankson and Margaret Forte, both QCs. She developed an interest in commercial and conveyancing litigation at that firm, but got her first big break in commercial litigation while working on a case concerning the '90s financial sector meltdown.
Her tertiary training began with a degree in history and government and more recently she has pursued a master's degree at the University of Toronto in innovation law and policy, which included modules on Internet law and governance as well as subjects covering the legal issues of cyberspace, eCommerce and information technology, telecommunications economics, intellectual property in cyberspace, digital intellectual property, freedom of expression and entertainment law. Her thesis is entitled: Spread Spectrum Wireless and Communications Policy, in which, she examined issues relating to spectrum allocation concentrating on the more efficient use of spectrum and spectrum auctions. Very much the academic, Gibson-Henlin has also made several presentations in her areas of expertise at the seminars sponsored by the Centre for International Legal Studies in Austria, the University of Suffolk Law School and the Clinton School of Public Policy in Arkansas and other major seminars and conferences both locally and internationally. Her most recent presentation was in October last year titled: The 'Internet as a substitute for expert evidence', at the Commonwealth Lawyers Association Conference in Montego Bay, Jamaica.
Perfectly positioned
With her wealth of knowledge in a branch of the law that is still relatively new to Jamaica, she is perfectly positioned to assist clients who need legal advice on international trademarks and other intellectual property issues, electronically obtained and stored information, and to ensure checks and balances in daily company operations and make them understand that failing to adequately protect electronic information can have serious consequences.
Her other major areas of activity will be in commercial and conveyancing litigation and continuously emerging issues under the not-so-new Telecommuni-cations Act that deals with the regulation of the telecommuni-cations industry. She has wide ranging experience in other areas of the law such as family law, including child abduction and custody administrative law, and procedural law, and has appeared at all levels of the courts in Jamaica including the Privy Council.
eBusiness platforms
"Many banks have online platforms these days, but not everyone can afford eCommerce and so that has not caught on fully here. Many persons, however, utilise eBusiness platforms, for example companies that have overseas offices or branch offices.
There are many issues now involving entertainment and sports law including the intellectual property of sports stars, domain name issues impacting trademark owners, cybersquatting and domain name tasting." she said.
Gibson-Henlin sees herself as getting ready for the times we live in and is hoping to achieve success as she operates from Henlin, Gibson, Henlin. Being in charge of her own operation will allow her more time with her family. But law remains her first choice for a career. "I cannot think of doing anything else, law is exciting, but demanding."
On wider legal issues, she thinks that there are areas in our justice system that could be improved, but is cognisant of the fact that we are not in a "developed-country" environment. "Things could be better, but I am not going to knock our system by making comparisons with places that have more advanced judicial systems. We must improve, but one needs to understand that the grass always seems greener on the other side, so I am realistic about it and make the best of what I have to work with," she said.
When she has free time, Gibson-Henlin watches television and reads voraciously especially spy thrillers by authors like Robert Ludlum and Tom Clancy, medical thrillers by Robin Cook as well as books by inspirational writers who enrich and uplift by teaching one to be a better person.