Jamaica Gleaner Business
Published: Monday Monday | February 2, 2009
Union urges Government of Jamaica to keep sugar factory running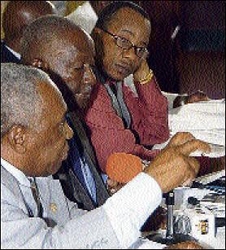 The National Workers Union (NWU) is arguing that given the socio-economic environment in and around Spanish Town, St Catherine, Government should make every possible effort to keep the Bernard Lodge sugar factory open. Vincent Morrison, NWU president and island supervisor...


Dehring fires bouncer at JTB
WESTERN BUREAU: Chris Dehring, the man who headed Cricket World Cup 2007, says the Jamaica Tourist Board (JTB) is not capitalising on the potential of event tourism, such as the lucrative Test that takes place at Sabina Park starting on Wednesday...


Don't sugar coat it, Omar - Forward-sale alumina deal was bad

Dr Omar Davies, former finance minister, is to be commended for admitting to punching holes in the bottom of Jamaica's economic ship. Last week, in the House, Davies said the decision to forward sell Jamaica's portion of alumina produced by Jamalco in Clarendon...