Celebration of love
Published: Monday | February 2, 2009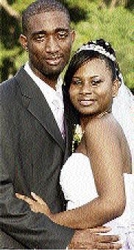 Kerrykay and her husband, Samora, beam after their nuptials at Gardens of Halifax in Barbican, on December 21, 2008. - Contributed
On December 21, 2008, Kerrykay and Samora Stephen exchanged vows in a celebration of love.
The couple met while pursuing studies at Northern Caribbean University in Manchester in 2002. Their friendship blossomed into a love affair.
The beautiful lawns of the Gardens of Halifax in Barbican, were transformed into a wedding heaven for the nuptials. The décor was simply elegant with a mix of silver and lavender fabrics, lights, and flowers under a full moon.
Kerrykay wore a strapless dress of her own design. Her bang covered some of the tears she shed during the ceremony.
The couple spent their honeymoon at Beaches Resort in Boscobel, St Mary. The officiating minister was Sylvera Castro.