Lisa Hanna's 10 best looks
Published: Monday | February 2, 2009
Keisha Shakespeare-Blackmore, Staff Reporter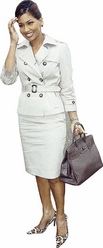 Hanna on her way to Parliament in an Audrey Hepburn-type cream suit and she looks radiant (2008).
Welcome to our new fashion feature where we will be looking at some of our socialites 10 best looks over the years. If you like our new feature, send us your choice of future participants by emailing:Lifestyle@gleanerjm.com.
We watched her as a young woman who walked away with Miss Jamaica World title in 1993, then later that year being crowned Miss World and later morphing into a woman of style. Her name - Lisa Hanna.
When she was elected member of parliament for South East St Ann in the 2007 general election, she added a refreshing vibrancy of style in the House of Parliament.
Over the years, her sense of style blossomed from elegant and flirty to classy and trendy. Whenever she enters a room, she is usually one of or the best dressed women. She is the reigning number one on Chester Francis-Jackson's top 10 best dressed women for 2009.
Here is Flair's list of her 10 best looks through the years.



Our Favourite: She is looking very chic and sassy in her figure hugging floral dress at Kenny Benjamin's birthday party in 2006.


She showed everyone at the Miss Jamaica World reception in 2006 that beauty never fades in her tiger-print jacket, matching shoes and black skirt.


She showed up to the Scotiawheels grand car show in a black pantsuit complemented by a gold belt in 2006 and she rocked the place.


She was a sight for sore eyes in her peach strapless dress that accentuates all her curves last year at the University of the West Indies' 60th anniversary dinner.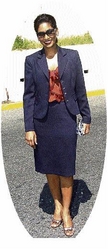 She stepped out in fine style wearing a navy blue skirt suit with a red inner ruffled blouse at Parliament in 2007.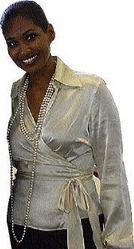 A contemporary silk wrap top, complemented by long beads, shows off her classy yet trendy side.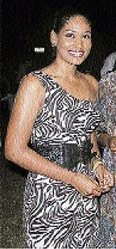 She began this year looking very fashionable in an off-shoulder tiger-print dress at the Shaggy and Friends concert.


In 1993, she was crowned Miss Jamaica World. Later that year, she took the Miss World title and even back then, she looked just as fabulous (1993).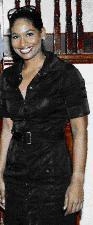 Even in a simple black shirt-dress, she still looks hot (2008).