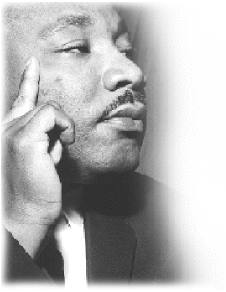 June 20, 1965: Martin Luther King Jr. visits Jamaica
"If it falls to our luck to be street-sweepers, sweep the streets, like Raphael painted pictures, like Michaelangelo carved marble, like Shakespeare wrote poetry, and like Beethoven composed music. Sweep the streets so well that all the hosts of heaven and earth would have to pause and say ... ...Here lived a great street sweeper"
-- Rev. Dr. Martin Luther King Jr., June 20, 1965, Kingston, Jamaica
You could say that it was Anthony Allen's dream to have the Reverend Dr. Martin Luther King visit Jamaica. Allen, then a medical student at the University of the West Indies (UWI), and a member of the Chapel Management Committee, was one of those who nominated Dr. King to deliver the sermon at the 1965 valedictory service. On the afternoon of Sunday, June 20, 1965 that dream came true, as the Rev. Dr. King arrived in Jamaica along with his wife, Coretta.
Hilary Sherlock, daughter of Sir Philip Sherlock (then UWI's Vice-Chancellor), remembers accompanying her parents to the airport to meet Dr. and Mrs. King. A self-described child of the sixties, this was not the first time Hilary had seen Dr. King.
As a student at Oberlin College in Ohio, Hilary had taken part in numerous civil rights marches and had heard Dr. King speak in person before. She, along with countless others, admired him for his leadership of one of the most crucial movements in American history.
GRADUATION AT UWI
That Sunday evening at the UWI Mona campus, the 400 plus graduates donned their traditional caps and red gowns and filed not into the chapel where the valedictory services are traditionally held, but into Assembly Hall in order to accommodate the large audience generated by Dr. King's appearance. As Dr. Allen remembers today, "it was a packed house and Dr. King was very well received by all present, especially the students".
Keith Gardener, then Director of Sports at the UWI, remembers feeling part of "a warm gathering that was not limited to students and UWI personnel".
Rev. Dr. Martin Luther King Jr. shakes hands with a member of the public as others stretch to reach him.- -Gleaner Photo
Gardener, who now runs a sports programme for the Multicare Foundation, added, "there were people from many other walks of life there and a lot of them were not even seated. Yet that did not cause any kind of problem as everyone was united in the anticipation of hearing Dr. King." Everyone was caught up in the sheer exuberance of the moment, "so glad he had come and so privilidged to be able to see him".
Professor Patrick Bryan, then a graduating student in liberal arts and now a professor of history at the UWI, remembers that Dr. King may have spoken for close to 40 minutes but that it seemed like five. "It was an incredible experience to hear so strong and commanding a speaker ­ it was as if you were entranced when listening to him," Prof. Bryan added. "He used no notes and talked without a hitch."
FACING THE CHALLENGE OF A NEW AGE
Dr. King's speech was entitled "Facing the Challenge of a New Age" and he spoke about
Dr. King addresses a large crowd at the National Stadium after receiving the keys to the city of Kingston, presented by the Commissioner of the KSAC, Mr. Eustace Bird. -Gleaner Photo
the passing of an old colonial order, the need for a worldwide brotherhood given that we are all increasingly interdependent, the need to fight any kind of injustice with love and the need for us all to strive to be the best we can be at whatever we chose to do in our lives. When asked what they remembered about the sermon specifically, Allen, Gardner and Bryan each quoted the following segment:
"If it falls to our luck to be street-sweepers, sweep the streets like Raphael painted pictures, like Michaelangelo carved marble, like Shakespeare wrote poetry, and like Beethoven composed music. Sweep the streets so well that all the hosts of heaven and earth would have to pause and say 'Here lived a great street sweeper."
"The time is always right to do right," Dr. King exhorted, noting that "whenever a new nation comes into history, it brings with it new challenges and new responsibilities. The great challenge facing all of us today -- is to somehow stand before the opportunities of the moment and face the challenges of the hour with creativity and with commitment and with determination."
A KING'S WELCOME
Following the service Dr. King was whisked away to a dinner at Kings House hosted by Governor-General Sir Clifford Campbell and Lady Campbell. The next day at a packed civic reception at the National Arena, Dr. King was given the Keys to the City of Kingston after delivering another stirring 40-plus-minute address.
He began by saying that he had never felt more at home anywhere else in the world adding, "In Jamaica I feel like a human being." He said he was proud to be among his "brothers and sisters on this wonderful island."
Dr. King spoke with great passion about the "freedom explosion occurring in his own country" explaining that the time for change was now: "We want our freedom, we want it here and we want it now."
Following that address, Dr. King dropped in unexpectedly to the delight of all 500 present at a reception at home of the USAID director. The following day, he visited the grave of National Hero Marcus Garvey to lay a wreath out of respect for a man he said, gave Negroes in the US a sense of dignity, a "sense of personhood, a sense of manhood, a sense of somebodiness".
­ Rebecca Tortello