TODAY CHRISTMAS in Jamaica, as in many countries around the world, has become commercialised. Carols are heard from the end of November, decorations appear from the first of December in stores and homes, and Santa can be visited in many different stores.

In decades past Christmas time included a number of different types of celebrations marked by distinctive sights, sounds and smells. There was the tradition of the "Grand Market", the much-heralded arrival of Santa Claus in the downtown shopping district and the dramatic performances of the Jonkonnu bands.

All three still exist but to significantly lesser degrees and none are greeted with the awe and expectation of days gone by.
Rebecca Tortello

The Grand Market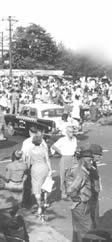 Grand Market in Downtown Kingston
GRAND MARKET (or Gran' Market) is a community fair characterised by food, street dancing, crafts and music. In the past, the weekend before Christmas and particularly on Christmas Eve and Christmas Day, markets all over the island were awash with vendors selling small toys, firecrackers, balloons and sweets of all kinds ­ pinda (an African word for peanut) cakes, grater cakes and peppermint sticks. Oranges and even American apples were distinctive features of the Grand Markets. Sorrel, chocolate tea and coffee flowed, as did the Christmas carols and a merry banter between vendors and customers.

On Christmas Day some markets were decorated with streamers, large accordion-style bells, and balloons. Many were decked out in fancy clothes, including bright hats purchased upon entering the Grand Market. Everyone came to town for Grand Market and the celebrations lasted throughout the day and well into the night.




Jonkonnu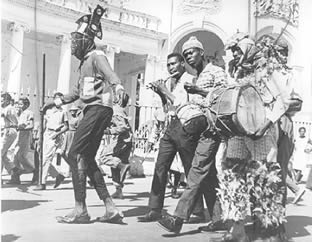 Jonkonnu Masquerade
THE CRY
"Jonkonnu a come!'
meant excitement was near. As soon as the sound of the bands could be heard, people poured out of their houses lining the streets to watch the dancing masqueraders in their larger-than-life costumes. Children of all ages, and even some adults, would often run away screaming, frightened by the more elaborate costumes. Occasionally, some of the individual characters like the Devil, might jab at them with his fork, escalating the fear factor. Up to the 1960s masked Jonkonnu bands could be seen around the island.
Jonkonnu (also spelled John Canoe, John Konno, Johnny Canoe, Jonkunnu and John Canou) is an example of creolization in action, or, what Rex Nettleford calls the blending of the rhythmn of Africa with the melody of Europe.
However it began, Jonkonnu melded the tradition of masquerade from Africa with those of European masquerade and British mumming plays. Excerpts from Shakespearean monologues were often included. The costumes also reflected European influences incorporating the attire of kings and queens amongst the characters.
JONKONNU CHARACTERS
The traditional set of Jonkonnu characters included the horned Cow Head, Policeman, Horse Head, Wild Indian, Devil, Belly-woman, Pitchy-Patchy and sometimes a Bride and House Head who carried an image of a great house on his head. Yet all were bright, elaborate and colourful. Mirrors and tinsel generally added shine to costumes. Pitchy-patchy in particular was a striking sight ­ his costume made up of strips of brightly coloured cloth. Each character had a special role and sometimes a special dance to perform. For example, Bellywoman's ­ often a man dressed up as a pregnant lady ­ always created laughter when by exaggerating the belly in time with the music. Characters often interacted with one another and the music of the drums and fife caused many an onlooker to dance along with the band.
Although Jamaica is credited with the longest running tradition of Jonkonnu, today these mysterious bands with their gigantic costumes appear more as entertainment at cultural events than at random along our streets. Despite attempts to revive these customs so much is being lost. Today the cost of putting together a Jonkonnu band is also prohibitive and sponsors are not easy to come by.
Santa Visits Downtown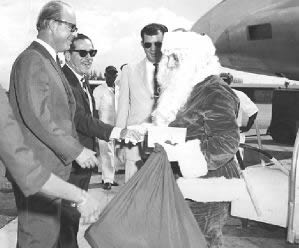 Santa arrives In Jamaica on PanAm Airlines
LIKE TODAY, the stores and streets downtown were heavily decorated and a Christmas tree could be found in the area now known as St. William Grant Park. Thousands awaited Santa's arrival on balconies and along crowded sidewalks. The Santa Claus Parade was a much-anticipated event. Streets were closed to traffic to clear the way for Santa's sleigh ride down King Street onto Harbour Street and Times Store, his final destination. Vendors lined the streets with boxes full of lollipops and biscuits. Marching bands, troops of boy scouts and girl guides, people holding effigies of Norman Manley and Alexander Bustamante, and floats carrying various beauty queens preceded Old Saint Nick. The "Jolly Man in Red" was ceremoniously greeted at the door of Times Store by its owners and the Mayor of Kingston. One by one the hundreds of children waiting in long lines to tell Santa their Christmas wishes, made their way onto his comfortable lap. Santa stayed in Times Store for almost three weeks. Of course, today, Times Store is no more.
Source :

www.geocities.com/shandycan /culture_notes.html
http://luna.cas.usf.edu/~alaing/jfolk.html#jonk Judith Bettleheim, "Jonkonnu Masquerade" http://www.talawa.com/maskarade.htm - Edward Long, History of Jamaica (London, 1774).
Peter Marsden: An Account of the Island of Jamaica (1788), Cynric R. Williams' A Tour through the Island of Jamaica (London, 1826)"