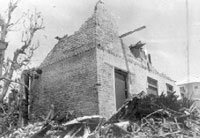 Hurricane of 1780
It is said, a mighty wave rose out of the boiling sea and swept over the coast for a mile.
The morning of October 3, 1780, dawned crisp and clear - a typical Jamaican day. In the southwestern part there was a slight wind and a few intermittent showers, but all in all things were calm and looking to remain so. By midday, all that changed. Here is how the Governor, Colonel John Dalling described this change of events in his official report to London:
"The sky on a sudden became very much overcast, and an uncommon elevation of the sea immediately followed. Whilst the unhappy settlers at Savanna-la-Mar were observing this extraordinary Phenomenon, the sea broke suddenly in upon the town, and on its retreat swept every thing away with it, so as not to leave the smallest vestige of Man, Beast, or House behind." (Black, 1965, p. 109).
That was only the beginning of the destruction. The catastrophe Dalling described above was followed by what many called the most devastating hurricane to have hit the island up to that point in its history. By midday buildings on the southwest coast of the island began to sway back and forth as if they were balancing on a tightrope. Fires broke out and spread. By 4 p.m. the full force of the hurricane had arrived and the town of Savanna-la-Mar lay directly in its path. It is said, a mighty wave rose out of the boiling sea and swept over the coast for a mile. Along with the debris of the homes and businesses, two ships and a schooner were carried along and left stranded among mango trees.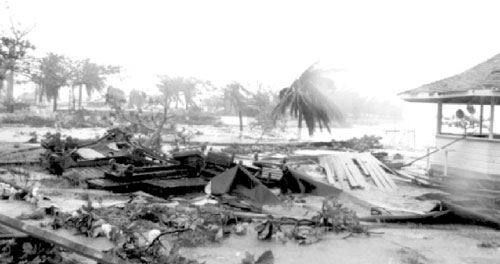 By nightfall, not one building was left standing in the town or for 30-40 miles on either side. In addition, all building in the parishes of Westmoreland, Hanover, and some in parts of St. James and St. Elizabeth, were demolished.
Property owners were unable to identify their estate boundaries. Slave provision grounds were demolished. Trees and plants were blown away and flattened, mountains and valleys, denuded, the majority of its population, drowned or crushed to death
Rivers were running through new channels; large lakes were seen in districts which a day before had been covered in cane fields; huge rocks were hurled down from the highest mountains; deep ravines formed across the roads, which were everywhere impassable (Gardner, History of Jamaica).
In the days that followed, husbands looked for wives, mothers for sons, sisters for brothers, to no avail. It is impossible to tell just how many lives were lost. The dead lay unburied and disease began to spread.
The destruction of the food crops resulted in a famine, and because the American War of Independence was being waged, none could be imported from the nearby colonies. Thousands of slaves starved to death.
In Kingston citizens raised 10,000 pounds to help their countrymen in the west. The British government sent an additional 40,000 pounds. The damage, however, was estimated at 700,000 pounds.

Plato the Wizard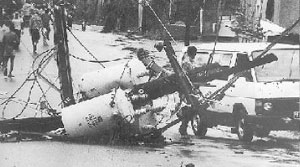 FOLKLORE PINS the devastation of this western town as the work of the runaway slave known as Plato the Wizard, from beyond the grave. Just before his 1780 execution, the renowned obeahman pronounced a curse on Jamaica - predicting that his death would be avenged by a terrible storm set to befall the island before the end of that same year.
It is said that Plato and his band of other runaways kept the parish of Westmoreland in a state of perpetual alarm from his stronghold in the Moreland Mountains. Plato warned that whoever dared lay a finger on him would suffer spiritual torments. It is not surprising that no slave would set traps for Plato even though the reward for his capture was great.
Plato, who like Tacky was an example of the type of spirit slavery could not hold, did have one weakness ñ rum, and it was to prove his downfall. During a time when his usual supplies were curtailed as a result of a massive hunt on for his arrest, he arranged with a watchman he knew well, to go out and get him some rum. The watchman decided to use the rum as bait. It was easier than he expected. Soon after he handed Plato the rum, he fell into a drunken stupor and right into the watchmanís trap. Plato was captured, tried and immediately sentenced to death. In response, he coolly cursed any and everything in sight as a dreadful power is said to have descended on him. Plato terrified the jailor who tied him to the stake by announcing that he had cast an obeah spell on him and he did not have long to live. Soon after Platoís death, the jailor fell ill and died. Before the year was over, Platoís other curse came true - the island was hit by what was described as the ìmost terrible hurricane that ever spread death and destruction even in West Indian Seas.î The region where Plato the Wizard had roamed free and died in betrayal was hardest hit.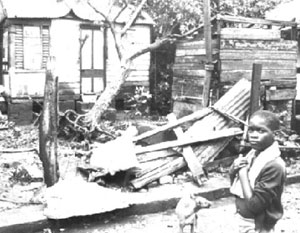 Wrath of Plato's Spirit
Jamaica was not the only island to suffer the effects of the hurricane of 1780. Martinique lost 7,000 people and Barbados, 4,300. Jamaica was ravaged again by another massive hurricane in the following year. Over a hundred ships were driven ashore, and all newly-planted provision grounds, destroyed.
More hurricanes followed in that decade alone - 1784, 1785, 1786. Could it be that Platoís spirit continued to hover over the island?
Hurricanes also swept Jamaica in the nineteenth and twentieth centuries in the following years:
1804, 1815, 1818, 1830, 1832, 1844, 1874, 1879, 1880, 1903, 1916, 1917, 1944, 1951 (Charlie which damaged Kingston, Port Royal and Morant Bay) 1963, (Flora) and 1988 (Gilbert)

All photos depict the destruction of Hurricane Gilbert.
Sources: Gardner, W. J. (1971). A History of Jamaica. London: Frank Cass & Co. Ltd.; Robertson, C. (1987) Fight for Freedom. Kingston: Kingston Publishers Ltd.; Black, C.V. (1965) The Story of Jamaica. London: Collins.