1692:Earthquake of Port Royal
'There never happens an earthquake, but God speaks to men on Earth.'
Boston Puritan Cotton Mather, 1706
ON JUNE 7, 1692, after winding up his morning prayer service, Dr. Emmanuel Heath, the Anglican rector in Port Royal, left St. Paul's Church and walked to a nearby tavern. There he met his friend John White, who was president of the island's Council, and the two men got to chatting. Soon goblets of wormwood wine were brought out and White lit his customary pipe of tobacco. Before it was outed and the wine drunk, the floor suddenly began to rumble and shake. "Lord, Sir," the Rev. Heath asked his friend, "what's this?" (Gragg, 2000).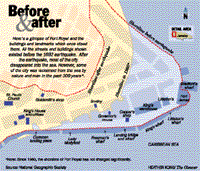 Click for larger image
Three hundred and nine years ago on this day, somewhere between 11:15 a.m. and noon (reports differ as to the actual time, although in the 1950s, in an archaeological first, divers are said to have found a watch which X-ray photography revealed to have stopped at 11.43 a.m.), the ground opened up in different places simultaneously, swallowing bodies and buildings alike.
Dead bodies and bones from uprooted graves covered the harbour replacing ships tossed by the mammoth waves into the town's destroyed buildings and onto the shells of its once bustling streets. In total, between 1,500 and 2,000 people lost their lives.
Naval, merchant and fishing fleets were wrecked and the former jewel in England's 17th century colonies brought to its knees. The duration of the quake is unclear, many Port Royal residents are documented as saying that it lasted at least 15 minutes, but most reports indicated that the catastrophe took no more than two to three minutes. That was all it took to wipe out almost one-third of Port Royal's population, as in addition to those who died, up to 3,000 were reported to have sustained serious injuries.
Remarkably, both Heath and White survived this utter devastation. Rev. Heath is even believed to have reached his house and found everything in the same order in which he had left them. Many, including Rev. Heath, felt the quake to be a sign of divine retribution for Port Royal's reputation as the 'wickedest city in the world.'
Founded in 1650, Port Royal was first captured by the English in 1655 and turned into a strategic military and naval base. Initially intended as a heavily fortified garrison by the late 17th century, the town had developed into the most important commercial centre in the English colonies. Port Royal's location in the middle of the Caribbean made it ideal for trade. Its location was also strategic for pillage and plunder as the many pirates who desired to launch attacks on the Spanish main flocked to it. From 1660 to 1692, Port Royal therefore became a haven for rogues such as the Welshman, Henry Morgan and 'three-fingered' Jack Rackham.
According to a September 2000 "History Today" article by Larry Gragg, Port Royal was densely populated, covering little more than 50 acres. It was filled with close to 6,500 people of various professions -- "Smiths, Carpenters, Bricklayers, Joyners, Turners, Cabinet Makers, Tanners, Curriors, Shoemakers, Taylors, Hatters, Upholsters, Ropemakers, Glasiers, Painters, Carvers, Armourers, and Combmakers." They lived in nearly 2,000 multi-story, often brick buildings that miraculously managed to stand upon a foundation of sand. There were as many if not more gambling and drinking dens and brothels as places of worship for Roman Catholics, Presbyterians, Baptists, Quakers and Jews.
Historical accounts reveal that close on the heels of the earthquakes and during its many aftershocks, looters broke into homes and warehouses taking every thing of value. The dead were said to have been robbed of all they had on them, and on the very night of the quake, many in the destroyed town were even said to have been back at their "old trade of drinking, swearing and whoring".
The Rev. Heath hoped that this terrible judgment would stand as a warning and that God would make these people of ill repute reform their lives. Some, like Boston-based Puritan minister, Cotton Mather, believed God intended it as a warning to Christians everywhere.
If it was such, it went unheeded. All that was left of Port Royal was about 25 acres, a substantially depleted population and a skeleton of a town. Yet, five years later a visitor to Jamaica described Port Royal as a place where the residents "regard nothing but money, and value not how they get it".
Although it continued to serve as a British naval base throughout the 18th century, Port Royal yielded its commercial role to its neighbour across the harbour, Kingston. A fire in 1703 and a devastating hurricane in 1722 hastened the Port Royal's full decline. By 1774, there were scarcely a hundred houses in Port Royal.
Rebecca Tortello