Dr. Cicely Williams: Jamaica's Gift to the Field for
Maternal and Child Health Care 1893 -1992.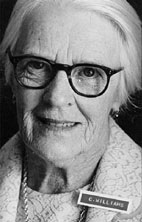 In January 1976, Dr. Cicely Williams was honoured with the Insignia of Order of Merit by Governor-General the Rt. Hon. Sir Florizel Glasspole.
By Dr. Rebecca Tortello
ONE DAY in 1902, landowner Rowland Williams is said to have looked at his active 9-year-old daughter Cicely and declared, "you'll never find a husband, my dear. You had better go to Oxford when you are old enough and learn to be a lady doctor." He could never have known how prophetic those words would be. Cicely Williams, born at Kew Park, Darliston, Westmoreland, grew up to become a pioneer in her chosen field of paediatrics. Dr. Williams was directly responsible for initiating a worldwide campaign against the use of unsuitable sweetened condensed milk as a substitute for breastmilk and for the diagnosis of the dreaded childhood nutritional disease, kwashiorkor.
HER FATHER'S DAUGHTER
It wasn't until the outbreak of World War I in 1914 when she started to take First Aid and nursing classes that Cicely thought seriously about studying medicine. In 1916, her father died and she decided to follow his advice and go to Oxford, her father's alma mater. She was one of few females admitted due to the scarcity of male students caused by World War I.
After graduating in 1923 Cicely worked extra-long hours at the South London Hospital for Women and Children in one of the first child welfare clinics. She chose to specialize in paediatrics and her conviction that cultivating knowledge about her patients' personal backgrounds was crucial to successful diagnoses and treatments would come to define her medical practice.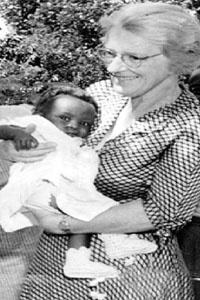 Dr. Williams holds an infant during tests carried out in August 1952, on cause of vomiting sickness.
THE YOUNG DOCTOR IN AFRICA
A tall, slender, energetic young woman, with a tireless commitment to healing, Cicely at heart desired an overseas posting and applied to the colonial office. After waiting 2 years, she was sent to the Gold Coast (the area now known as Ghana) in 1929. Dr. Williams spent 7 years there, learning to speak Twi and working to improve health conditions. When she arrived one room served as a waiting, consulting, examination, sterilization and dispensing room. She established proper clinics and hospitals and was also responsible for issuing patient information cards to improve record keeping. Cicely also started well-baby clinics that stressed nutrition run by nurses she trained to do outreach on maternal and child-care. As a result of the success of these well-baby clinics attendance at her hospital fell
dramatically.
Dr. Williams' most important work in Africa was her diagnosis of the common and often fatal kwashiorkor, a disease too long misdiagnosed as pellagra (a vitamin deficiency disease caused by a lack of niacin). Soon after her arrival in Africa she began to keep track of children who came to see her with swollen bellies and legs, and whose skin were sometimes of a lighter colour than that of their parents. After receiving the equipment needed to carry out post-mortems, she still needed to get permission from mothers to perform post-mortems on their children ­ an act which was believed to be against their religious beliefs. Cicely carried out a few at great personal risk while conducting post-mortems, because in the 1930s, there, she had no antibiotics. Dr. Williams wound up becoming infected with the disease known as haemolytic streptococcus from doing a post-mortem with a small cut on her hand. It nearly cost her her life. Never one to look on the negative side, during her recovery a friend visited her only to find her writing a paper on kwashiorkor noting findings such as the fact that most children were found to have a fatty liver. Once back at work, Cicely began to question the women more about what they feed their children. Frustrated at her inability to solve the puzzle this disease had become and unwilling to watch more children die from it she asked an African nurse if it had a name. She learned it was called "kwashiorkor" meaning the sickness the older child gets when the next baby is born. Cicely surmised that this meant that weanling children were not receiving enough to eat. The cure for kwashiorkor was a simple one ­ education on children's nutritional needs. She quickly published her diagnosis in one of many articles on maternal and child care in third world countries she would publish during the course of her lifetime.
Dr. Williams was always eager to learn new medical techniques. When confronted with diseases she couldn't cure she was not averse to referring her patients to African herbal doctors. She became close to one such African doctor who over the course of a few years healed patients suffering from tetanus and meningitis ­ diseases for which Europeans had no cures. Eventually he shared his methods with Cicely and she took copious notes, hoping to engage European pharmaceutical companies in the manufacture of these cures. Sadly Dr. Williams' notes were lost in the country of her next colonial office post, Malaya, during the occupation of Singapore in 1941.
IN MALAYA
In the late 1930s, Dr. Williams arrived in this Asian country, now part of Malaysia, to lecture at the University of Singapore. She began to pay attention to milk and what types of milk were used to feed children. She discovered that milk firms were encouraging women to use sweetened condensed milk instead of breast milk by saying it was healthier for their babies when in fact the opposite was true. She immediately began her campaign against the milk firms by speaking in public, publishing her famous treatise provocatively titled "Milk and Murder," and increasing her outreach activities amongst local women.
WORLD WAR II PRISONER
In 1941 Cicely was settling into a regular routine in the Malayan state of Trengganu, responsible with 23 other doctors for some 300,000 people. On December 8, the Japanese invaded and Cicely's normal routine was shattered. Although she hated to leave her patients, as a European citizen she was ordered to undertake the treacherous journey by river and over mountains to the still safe Singapore. Soon, Singapore too fell to the Japanese and Cicely was interred. She came down with a terrible case of dysentery (an inflammation of the lining of the large intestines) and nearly died. Not too long after she recovered she was moved to another prison, Changi. The nights were filled with the sound of screaming prisoners living through their worst nightmares. After two years of near starvation at Changi, Cicely was taken to the headquarters of the Kempe Tai, the equivalent of the Nazi Gestapo. She was tortured, starved, questioned to exhaustion and placed in a series of cages she was forced to share with dying men for over 4 months. Cicely survived 11 days and was released and returned to Changi. VE day in 1945, (the day of the allied victory over Nazi Germany) found Cicely in the hospital near death. Old Malayan friends collected her and nursed her back to health. Not long after she was part of a guard of honour, all women who had been imprisoned by the Japanese, who witnessed the surrender of six Japanese generals to British war hero Lord Mountbatten. She then returned to England.
IN HER GOLDEN YEARS
As soon as she regained her health, Dr. Williams returned to Malaya and became the first woman to be put in charge of all maternity and child welfare services. She was 52 years old. She stayed for 3 years and returned to England to lecture at Oxford. From 1948-51 she worked as adviser to the World Health Organization (WHO), the first in maternal and child health. In the early 1950s she worked for a while in her native Jamaica leaving to become Senior Lecturer in Nutrition at London University (1953-5). In 1960 Dr. Williams went to Beirut as a professor of Maternal and Child Health at the American University and stayed there for 4 years. At 70 years old, in 1964, she became an adviser in the training programme of the Family Planning Association, a position she retained for 3 years. In her nineties Dr. Williams remained an active speaker, giving talks in countries such as Nepal, Pakistan and Israel.
During her life, as doctor, researcher, lecturer and WHO adviser, Dr. Williams worked in 58 countries and her methods of maternal and child care were practised uniformly around the world. She is one of many outstanding Jamaicans and one of many outstanding Jamaican women, who deserve recognition for her contributions on the world's stage. Dr. Cicely Williams died in England in 1992 at the age of 98.
NOTES:
* In 1977 a worldwide boycott of sweetened condensed milk as infant food began. Despite the fact that formula is not equivalent to breastmilk, scarce resources continue to be used to buy it while free, healthier breastmilk is left to dry up.
* The papers of Dr. Cicely Williams were given to England's Contemporary Medical Archives Centre in 1993, and subsequently catalogued. They cover most aspects of her work from 1929-1989 in the field of maternal and child health, as practitioner, teacher and consultant in the developing world. The collection includes correspondence, reports, lectures, publications, photographs and sound recordings, and is of relevance to a wide range of issues related to maternal and child health and the development of appropriate local health care systems. In particular, it is of interest in relation to Williams' pioneering work on the identification of the childhood malnutrition disease kwashiorkor.
* Dr. Williams shared her desire to serve others with her brother, R.A. Williams, a distinguished Jamaican agriculturalist, beloved by farmers islandwide. Some say there is no one that did more for the banana and livestock industries than he.
Sources:Dally, A. (1968). Cicely: the Story of a Doctor. London: Victor Gollancz Ltd. Hunter, I. The papers of Cicely Williams (1893-1992) in the contemporary medical archives centre at the Wellcome Institute, London: Contemporary Medical Archives Centre, the Wellcome Institute for the History of Medicine.
http://www3.oup.co.uk/sochis/hdb/Volume_09/Issue_01/090109.sgm.abs.html,
www3.oup.co.uk/sochis/hdb/Volume_09/ Issue_01/090109.sgm.abs.html,
www.babymilkaction.org/pages/history.html,
http://www.westonaprice. org/children/tricks.html,
Williams, R.F. (1972). R. F. Looks Back, Canterbury: R. F. Williams.