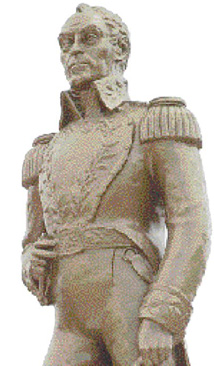 IAN ALLEN/ Staff Photographer
This statue of Simon Bolivar stands in a corner of Heroes Circle in Kingston. It was a gift from the people and government of Venezuela to Jamaica.
Do not adopt the best system of government, but the one that is most likely to succeed.
-- Simon Bolivar, Letter from Jamaica, September 6, 1815
By Dr. Rebecca Tortello
BOLIVAR'S EARLY INFLUENCES
Bolivar dedicated his life to the independence of the then Spanish colonies and the dream of Latin American unity. He was born in 1793 in Caracas, Venezuela, to wealthy parents who died when he was nine years old. Young Simon inherited a large fortune and was raised by his maternal uncles. He left home at age 15 for Europe where he continued his study of ancient Rome and Greece and philosophies of Voltaire and Rousseau. In 1802, at age 19, he met and married Maria Teresa Rodriquez del Toro y Alaysa in Spain. Maria Teresa died a year later from yellow fever on their return to Venezuela. Bolivar vowed to never remarry -- a vow he kept for the rest of his life.
Bolivar returned to Spain in 1804 and witnessed with chagrin Napoleon declaring himself Emperor and placing his brother Joseph on the Spanish throne. Bolivar visited the United States on his way home and could not help but reflect on the differences between the newly independent nation and Spain's South American colonies. The seed of his desire for liberation, rooted in his exposure to ancient Greek, Roman as well as contemporary French philosophy, burst into full bloom. In 1810, Bolivar, as a 27-year-old military officer, joined with a group who inspired revolts against Spanish rule in Venezuela. Together they seized Caracas and declared independence from Spain. They were, however, overthrown by royalist forces in 1814 and Bolivar went into exile in Jamaica for close to one year.
BOLIVAR THE POLITICAL THEORIST ­ HIS SOJOURN IN JAMAICA
While in Jamaica, Simon Bolivar wrote the now famous "Letter from Jamaica" in which he expressed his ideas for republican government and Latin American unity. Widely recognized as an important political doctrine the letter was actually titled, "Reply of a South American to a Gentleman of this Island." It was Bolivar's lengthy response to a letter he had received from an unnamed Jamaican who empathized with Bolivar's struggle for South American liberation and indicated a desire to learn more about the politics and people of each South American province. Specifically, the Jamaican Gentleman asked Bolivar to explain such technicalities as whether each province desired a monarchy or a republic or to form one unified republic or one single monarchy. This sparked the Spanish American patriot and general to launch into his treatise ­ an extensive description of the history of the different provinces (including the present-day countries of Venezuela, Columbia, Ecuador, Bolivia and Peru) and an exploration of his own ideas for their political futures.
In Jamaica, Bolivar also survived an assassination attempt. His servant, Pio, was bribed by Spanish agents to murder Bolivar. On the night that Pio decided to strike, however, he wound up stabbing another man who at the time was lying in his master's hammock.
BOLIVAR ­ HIS MILITARY RISE AND FALL
Alive and well, Bolivar left Jamaica for Haiti in December 1815. There he gathered troops and supplies with the blessing of Haitian President Petion who made only one request of him ­ that he free all slaves in the countries he intended to liberate.
In 1816, Bolivar launched another invasion of Venezuela and after a few successful battles, he began to free the slaves. However, when Bolivar went so far as to proclaim general freedom for all slaves, adhering to Petion's request, all slave-owners and even some of his military commanders turned against him. He was forced to flee and once again wound up in Haiti. In 1817, he returned to South America and by 1819, again with help from Haitian troops as well as many British and Irish mercenaries (veterans of the Napoleonic wars), Bolivar defeated the Spanish Imperial Army and liberated Colombia. Bolivar was proclaimed president of Gran Colombia comprised of the present day countries of Colombia, Panama, Venezuela and Ecuador.
The battles to solidify independence from Spain were far from over, however. In 1822, Bolivar was named dictator of Peru and Upper Peru became a separate state, which would achieve independence from Spain in 1824. At that time it was named Bolivia in Bolivar's honour, and Bolivar drew upon many of his ideas already expressed in the "Letter from Jamaica" to create that country's constitution.
In 1826 Bolivar convened a historic meeting of representatives of the new South and Central American republics that was known as the Congress of Panama. Marking the beginning of what has come to be called Pan-Americanism, the Congress of Panama would later evolve into the Organization of American States. (After 1970 the OAS included English-speaking nations and therefore widened its reach within the region).
Again, however, Bolivar's success was short-lived. By 1828, separatist movements began to grow and after he declared himself dictator, he was forced to dodge another attempt on his life. Venezuela and Ecuador soon seceded causing Gran Colombia to fall apart. Saddened and disillusioned, Bolivar resigned. Not too long afterwards he died of tuberculosis, poor and hated.
BOLIVAR IN MEMORIAM
Many years after his death, however, Bolivar's reputation was restored. Today he is heralded as South America's greatest hero, El Libertador. Streets, towns, cities, and countries such as Bolivia and Venezuela ­ now called the Bolivarian Republic of Venezuela ­ bear his name. In Jamaica, to commemorate the meaning of the time he spent on the island, a statue of Bolivar stands, surrounded by foliage in front of a colourful billboard, close to our own National Heroes Park.
Sources: Black, C.V. (1983). The History of Jamaica. UK: Longman Group Ltd.; http://www.bolivarmo.com/history.htm, http://www.crystalbeach.com/history.htm, Statement by Ambassador Odeen Ishmael, Permanent Representative of Guyana to the OAS, at the Protocolory Session of the Organization of American States, July 24, 2002 -http://www.guyana.org/Speeches/ishmael_bolivar. html, http://www.bartleby.com/65/bo/Bolivar.html, http://wekker.seagull.net/bolivar/a_man_named_sb.html, text of the Letter from Jamaica http://www.emory.edu/COLLEGE/CULPEPER/BAKEWELL/thinksheets/thsh-bolivar.html
Coming April 7:
This series explores Old Time Tellin's - A Closer Look At Jamaican Proverbs.