Mears mistake! - Burnley right back claims to have no Jamaican connection
Published: Monday | November 9, 2009
André Lowe, Senior Staff Reporter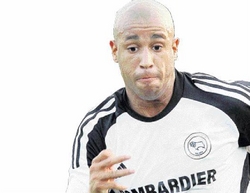 Mears
There is a thick cloud of confusion surrounding the international future of England-born defender Tyrone Mears who represented Jamaica in a friendly international earlier this year only to find out afterwards that he was not eligible to do so.
Mears, whose mother was also born in England, accepted an invitation from former National coach John Barnes in February to play for Jamaica after it was felt that he would qualify through his father, who was believed to be Jamaican.
The Burnley right back played 71 minutes in the match that ended 0-0 against Nigeria but later found out, through a private investigator, that his father had indeed been born in the African country of Sierra Leone, resulting in a huge threat to the continuing of his international career.
According to FIFA rules, "With the exception of the conditions specified in article 18, any player who has already participated in a match (either in full or in part) in an official competition of any category or any type of football for one association may not play an international match for a representative team of another association."
Quoted in British media outlet News of the World, Mears explained, "It was an honest mistake on my part. I can't believe the Jamaican FA didn't check in the registration process!"
"I was desperate for games at the time. When Barnes asked me about Jamaica, I thought I'd see if I qualified," he added, "I gave the Jamaican FA my name, my father's name and that was it. I didn't have to submit my passport. I just want the chance to be considered for England along with everyone else."
A non-issue
However, a top-level official from the Jamaica Football Federation (JFF), speaking on the condition of anonymity, defended the organisation and labelled the situation as a "non-issue" when asked about the association's due diligence in querying the right back's eligibility.
The official further maintained that Mears should not have any issues concerning the changing of his nationality and explained that the player did not receive any further call-ups since then because he failed to secure his Jamaican passport.
"He was introduced by Barnes who unearthed his talent, but for friendly internationals a player's passport is not needed, this is only required for competitive FIFA games such as World Cup qualifiers, the Gold Cup and so on, so he (Mears) should not have a problem," the source stated.
"You are made ineligible if you play an official game for another country, simply an official game is one in which you can gain points in terms of a competition. You can only play in these official games after presenting a passport from the country you are representing to the officials, and he (Mears) did not get his Jamaican passport, I'm not even sure if he applied, and so he was not called for the Gold Cup for instance which constitutes an official game," the source added.
'I was desperate for games at the time. When Barnes asked me about Jamaica, I thought I'd see if I qualified.'
The opinions on this page do not necessarily reflect the views of The Gleaner. The Gleaner reserves the right not to publish comments that may be deemed libelous, derogatory or indecent. To respond to The Gleaner please use the
feedback form.