Jamaica's Brown wins Muay Thai world title
Published: Tuesday | June 30, 2009
Adrian Frater, News Editor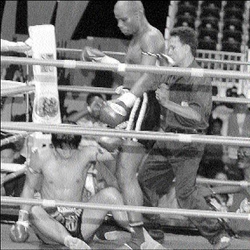 Jamaica-born Clifton Brown stands over Thailand's Kuoklai Kaennorasing after knocking him down in their Muay Thai fight in Montego Bay last Friday. - photo by Adrian Frater
Western Bureau:
Jamaica-born fighter Clifton Brown emerged as one of the stars of Friday night's 10-fight Muay Thai Champions of Champions II Showdown at the Rose Hall Aqueduct in Montego Bay when he defeated Thailand's Kuoklai Kaennorasing for the world super lightweight title.
"This is one of the greatest feelings I have ever had in my Muay Thai fighting career," said the obviously elated Brown, who maintains his Jamaican roots despite fighting for Canada. "It is an overwhelming feeling."
"I really wanted to do well before my Jamaican people," continued Brown. "Nothing could beat winning this title here in Jamaica. It is just so awesome and I will definitely cherish this win forever."
In what was a fiercely contested fight characterised by crisp punches and sharp kicks, both fighters took turns at controlling the encounter. However, after being stunned in the second round and looking like buckling to defeat, Brown stormed back and all but battered Kuoklai into submission to win the title.
In the night's feature bout, it was all fireworks in the much-hyped super cruiser weight championship clash between The Netherlands' Tyrone 'King of the Ring' Spong and Australia's Nathan 'Carnage' Corbett. Both fighters were floored in their action-packed bout, which subsequently ended controversially in a no-contest.
In the third round, Corbett floored Spong with a fierce right hand and as the Dutchman got back to his feet looking quite dazed and out of sorts, the referee began to signal an end to the fight. However, Corbett stepped in and again floored Spong with another vicious right-hand punch.
No-contest
Corbett was penalised for the second knockdown as it was deemed that he punched Spong after the referee had waved him away. On the basis of that ruling, the fight was ruled a no-contest.
In the only women's bout of the night, Australia's Angela Rivera-Parr and Britain's Julie Kitchen put on a clinic for the women's world super lightweight title. In what was a bruising but highly entertaining fight, Kitchen was adjudged the winner.
It was a difficult night for Parr as her husband John Wayne Parr, who earlier challenged Thailand's dynamo Buakaw Porpramuk for the world junior middleweight title, also suffered defeat, losing by big margins on the scorecards of all three judges.
It was a night that fans should long remember as the pay-per-view event, which was shown live on television in Asia, Britain and the United States, started with a bang as Andrei Kulebin handed Mosab Amrani a spectacular defeat for the world super lightweight title and ended as dramatically with Vodsuenklai Fairtex knocking out Cormo Alexandre for the middleweight crown.
The other winners on the night included Australia's Eugene Ekkelbloom, who scored a spectacular TKO win over The Netherlands' Rayen Simson; and Thailand's Anuwat Kaewsmarit, who also had a bruising TKO win over England's Liam Harrison to win the lightweight world title.