St Mary Peace Farm and Park - Nature at its best
Published: Monday | June 15, 2009
Carl Gilchrist, Gleaner Writer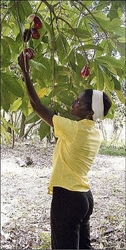 Professor Anne C. Bailey picks apples on her farm in St Mary.
Professor Anne C. Bailey could take the term, 'best of both worlds', and change it to 'best of all worlds' just to describe her life. And no one could blame her.
Bailey studied English and French at Harvard, received her PhD from the University of Pennsylvania, has been a visiting professor of History at Harvard, Rutgers, and Pennsyl-vania universities, among others, and a tenured professor at State University of New York.
Bailey was born in Jamaica, and schooled (from high-school level) in the powerful United States. She has had extended stays in London, Paris and West Africa and has travelled extensively.
She is a Christian and currently attends the Montego Bay Family Church on the Rock.
And there's more. But let's fast forward to 2009 for the moment.
Now throw in a 22-acre farm in Roslyn Park, near Oracabessa, St Mary, aptly named St Mary Peace Farm and Park.
And the picture begins to take shape.
Don't be misled by her title and her achievements. The professor is far flung from the stereotypical image that the mention of the title 'professor' conjures in one's mind. Indeed, she is quite young and is able to enjoy her recently acquired property even though her age seems to be a closely guarded secret.
A real lover of nature and the outdoors, Bailey also has a passion for music and film. What she does next with St Mary peace farm and Park, currently in phase one of its development, should be another major accomplishment.
The road off the main that leads to the peace farm is a typical Jamaican country road - narrow and rugged and sprinkled generously with potholes. But it sets the tone for the rustic setting of a property such as Peace Farm.
Tranquil setting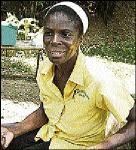 Professor Anne C. Bailey
Once in, though, the journey is quite forgotten as the tranquil setting hits you full blast. The atmosphere lends itself to total peace and serenity. (Bailey admitted that this was what inspired the name.)
The peace farm has as its logo a doctor bird with an olive branch.
"The traditional sign for peace is a dove holding an olive branch; well we're Jamaica and we're so proud of Jamaica and this is about all things Jamaican; this is about promoting Jamaica, so we're promoting peace in Jamaica and peace around the world, and so, our doctor bird is holding the olive branch," she explained.
But what exactly is St Mary Peace Farm and Park?
"St Mary Peace Farm and Park is both an eco-tourist retreat and a working farm. It is for people who love nature, who love the outdoors and who believe in protecting the environment," Bailey told The Gleaner.
There are three streams running through the property. There are fruits trees - apple, mango, coconut, guava, grapefruit, ackee, June plum, orange and others, that bear in due season, palm trees and flowers - ginger lily, heliconia, etc.
On completion, one will be able to tour the property; enjoy fruits that are in season; take the heritage and environment or the nature tour, or both; go horseback-riding, bird-watching, picnicking, or if you're a child at heart, join the children in their play area. Or browse through the gift shop or simply do nothing but enjoy what nature has to offer. The venue will also be available for music shows and filming of movies.
Promoting heritage
Said the professor: "In terms of this project, my main focus was really a question of heritage. I think if I'm a historian and I'm a history professor and I'm interested in heritage, African heritage, black Americans, I'm interested in the heritage of the Caribbean peoples and I want to be part of Jamaica's heritage. I want to be able to promote the heritage of Jamaica in a really positive way and this is one of the ways to do it.
"I mean the environment is a part of our heritage and our history is a part of our heritage and I want to promote that through this farm."
She acquired the property almost five years ago, but living in the US didn't afford her the time to pay attention to it. She returned last year and has since been working to develop it. Her six-year-old son, Mickias, whom she jokingly described as the manager in training, is actively involved too!
There is still some ways to go, but the vision is clear and the potential for success appears vast. Hinged on the success of this project is the prospect of residents of nearby communities earning a living as a direct spin-off from visitors to the peace farm and park.
Sharing the vision
Marcia Robb, who is from a section of Roslyn Park called Corn Hill, lives virtually next door, and is among the first batch of employees on the peace farm. She and a few others have seen the vision and are part of the team turning it into reality.
"I love it here," Robb told The Gleaner. "It's very nice, a very nice attraction for tourists, for kids on vacation and whatever else they want to do here. And it's cool here, you can come relax, read a book, anything."
On September 5, there will be a big gospel concert at the peace farm to signify its official opening. But even then, all systems will not be in place. Said Bailey: "We have made contact with the Jamaica Tourist Board. We're in the process of getting our licence, but we've also reached out to the minister of tourism, we're hoping that he would come and see what we're doing, see this as a kind of niche tourism that I know he's been promoting."
Professor Anne C. Bailey may be reached at stmaryspeacefarm@gmail.com, or 588-9344.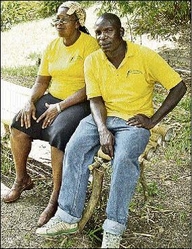 Marcia Robb and Anthony Llewellyn work on the peace farm.