Electoral body gives go-ahead for increase in constituencies
Published: Thursday | February 5, 2009
Howard Campbell, Gleaner Writer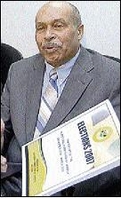 Miller
THE ELECTORAL Commission of Jamaica (ECJ) says the way is clear for the House of Representatives and the Senate to vote for an increase in the number of constituencies.
Yesterday, the eight-member commission said it was on course to complete its proprietary work by March, in the event the Constitution is amended to facilitate the increase.
"It is not now a question of what is to go to Parliament. What is before the Parliament is a recommendation which has gone through all the processes, subject now only to the vote in the House of Representatives and the Senate," said Donald Buchanan, the opposition People's National Party's ECJ representative.
Calls for increase
It was the ECJ (then Electoral Advisory Committee) which pro-posed an increase in constituencies from the current 60 to 65, in 2004. Parliament's Boundary Committee recommended that the number of seats be increased to 63 in the first instance.
Since the 2002 general election, which the PNP won by eight seats, there have been calls from legislators for an increase in constituencies to an odd number, which would prevent a tie in general elections.
The governing Jamaica Labour Party's position in the House of Representatives is tenuous. It currently holds a four-seat majority, but the legitimacy of four of its members are being challenged by the PNP in court.
ECJ chairman, Professor Errol Miller, said no decision will be taken on the new constituencies until the Constitution is amended.
"What we have done is put ourselves in the position that, immediately that happens, we can move because all of the data would be in place," he said.
Redefined boundaries
Miller said the ECJ has already redefined boundaries for polling divisions and completed digitalisa-tion of maps for seven of the 14 parishes.
Under Jamaican law, boundary changes are recommended every four-six years.
Last year, a bill was taken to Parliament to amend the Constitution and permit the increase, but it fell off the Order Paper at the end of the last legislative year.
A bill to make a constitutional amendment must be on the table of Parliament for three months before it is debated.