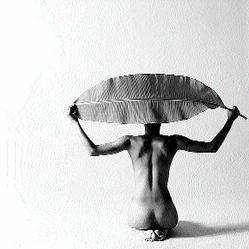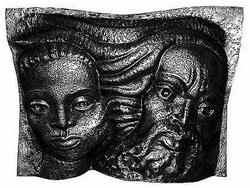 LEFT: Marzouca - The Covered Nude #3, 11 x 11 inches Piezo carbon pigment print. RIGHT: Gonzales' Father and Daughter, 24 x 18 inches hammered copper
The much-anticipated Liguanea Festival of Fine of Arts takes place today at Liguanea Plaza, St Andrew. Some 70 artists, sculptures, painters, ceramists jewellers and photographers will participate in the day-long event. Today, we feature four more of the artists who will be participating in the festival.
Christopher Gonzales
Gonzales graduated from the Jamaica School of Art (The Edna Manley College of the Visual and Performing Arts) in 1963, where he majored in sculpture. Gonzales subsequently studied at the California College of Arts and Crafts graduating with a Master of Fine Arts degree. His teaching career, which spans over two decades led him into many colleges in Jamaica, California, and Atlanta, Georgia. Gonzales has had major commissions from the Government of Jamaica, which can be seen at the Bank of Jamaica, the Jamaica National Heroes' Memorial, the Prime Minister's residence, the National Gallery of Jamaica, and numerous special commissions.
The works of Gonzales now form part of many private and corporate collections in Jamaica, Europe and the United States. Gonzales has had numerous solo and group shows in Jamaica, England, Germany, Denmark, Canada, Cuba, Mexico and several cities throughout the United States. Gonzales won first prize for sculpture in the Jamaica Fine Arts Festival Competition in 1965 and was awarded the prestigious Jamaican Silver Musgrave Medal in 1974. Gonzales' work has been widely acclaimed by critics worldwide.
Franz Marzouca
"My black & white photography is evolving as I am working on a series of quiet nudes & disappearing old Jamaican sites."
Marzouca was educated in Switzerland and finished his education in the United States before returning to Jamaica as a professional photographer. He was schooled in large format photography utilising swing and tilt cameras for 8x10 and 4x5 formats. Marzouca's art stretches from the technical aspect of lighting and composing to creating artistic nude studies and documentary photography. Also, one of Jamaica's leading commercial shooters Marzouca's images are his trademarks. Many commissions come from abroad for his tropical still lifes incorporating rum bottles and cuisine dishes. Marzouca switched his focus from using film to digital. "A tremendous learning curve," he stated, and he also has incorporated into his digital darkroom arsenal the use of carbon printing techniques for his black and white digital prints. Many of his works are in private collections, and he has many images published in books around the world.
Fitz Mitchell
Born in Clarendon and educated at Kingston Technical High School, Mitchell first studied engineering and worked as an automechanic at a friend's garage. Influenced and tutored by another friend for about three years in realistic carving, he later switched to intuitive art, the medium in which he is now working using Jamaican lignum vitae.
His carvings are carried in several galleries including the Revolution and Pegasus galleries.
Mitchell has had several solo exhibitions, most recently in Montego Bay at Barita Investments Limited and in Kingston at the Faculty of Social Sciences at UWI, Mona.
Gene Pearson. O.D.
Pearson is a graduate of the Jamaica School of Art (Edna Manley College of the Visual and Performing Arts). A former teacher at the College he has also taught art at several high schools. Pearson's ceramic sculptures have been presented to many foreign dignitaries by the Jamaican Government, and has been featured in films and can be found in many private and public collections in Jamaica and around the world. Most notably, Pearson's work appears on the Jamaican $1.40 stamp released on April 23, 1993, depicting 'Jamaica Ceramics' from the Hardingham Collection. Pearson has exhibited widely in Jamaica and overseas, including the Victoria and Albert museums, in London and UC Berkeley, in Berkeley California.
In 2001, he was awarded the 'Hall of Fame' Award For Excellence in the Field of Visual Arts, and 2006 he was awarded The Order of Distinction in the rank of Officer (O.D.) for distinguished performance in the arts. Over the years his exhibitions have received critical acclaim.