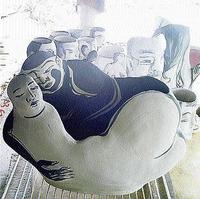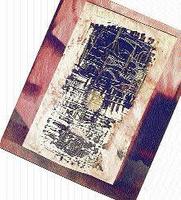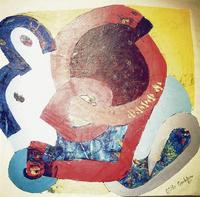 From left, figurative piece by Akio Takamori; Errol Moo Young's 'Stacatto'; and Cecile Comblen's 'Primary Feelings'. - Photos by Anthea MCgibbon
Anthea McGibbon, Gleaner Writer
Indelible marks were etched by three distinct fine artists this week across Jamaica. At the David Pinto's Studio, Good Hope in Trelawny, Japanese native Akio Takamori, ceramics professor at the University of Washington Art School, Seattle, conducted an impressive workshop in figurative ceramics on Wednesday.
At the Mutual Gallery, two artists, Errol Moo Young and Belgian Cecile Comblen, now living in St. Vincent, gave viewers a 'Double Exposure' of styles on Thursday.
Fifteen international visitors, including ceramics lecturers, connected in a relaxed atmosphere at Pinto's Studio - set against lush greenry which included a floating lily pond, complemented by a mini fountain - to receive instruction from Akio Takamori.
Reminiscing on his childhood in post-war Japan, Takamori's figurative work, remodeled from memory, is often autobiographical and includes villagers, schoolchildren, shopkeepers and family members.
Doug Cassebeer, a ceramics and sculpture director at Anderson Ranch, in the United States, has been partnering with Pinto in hosting the twice-a-year workshops locally for 11 years.
According to Cassebeer, at this particular workshop series spanning a week, participants experimented with various glazing techniques using the wooden kiln. For the experiment, varying amounts of wood were used to achieve different temperatures, hence varied results.
Cassebeer has a history with Jamaica spanning over 25 years as a ceramics technician at Things Jamaican. For Cassebeer, who focuses on functional pottery, the workshop was a welcome difference as he said: "If you don't take risks and try new things, you won't develop."
Appreciative
He was not the only one who was appreciative, as revealed by participants, including local artist Michael Lane who spoke with The Sunday Gleaner.
Lane was among participants fully immersed in classes on figurative pottery, the style of Akio Takamori.
For Lane, whose forte is texturising and washing the surface of his ceramic pieces in his 32-year-old career, the workshop was "fantastic." Enlightened by Takamori, his perspective of pottery has been changed and he now "has renewed zest to go on."
From Eugene, Oregon, Kathy Lee, with 30 years experience in clay was a newcomer to the workshops. Busying herself making natural objects, she told The Sunday Gleaner that she enjoyed the decorations and drawings done by Takamori on his pieces.
Crystal Ribich from Boston, Massachusettes, has lectured in clay for over 30 years, and was attending her fourth workshop. Comfortable in confining herself to the borders of the Good Hope Estate, she said the benefits to her were the trips to Jamaica as she "loved the country and its people." Additionally, she was overwhelmed by the new knowledge of surface treatments and the "way the teacher worked with forms" - aspects of the workshop she intends to take back to her students.
Both women were pleased to be led down a different path from the functional pottery to which they were accustomed.
At the end of it all, the raging fires of three kilns devoured wood, gas and sticks in the quest to convince of their abilities to give the varied results desired on the ceramic pieces in transforming the moulded pieces to fine works of tenacity.
At the Mutual Gallery viewers viewed abstract works by Errol Moo Young and Cecile Comblen on Thursday. So far, commendably so, the gallery is the only one providing a full colour brochure at each monthly exhibition. Still, the actual works are best close up and not flattened by print.
Moo Young, a renowned businessman, is largely influenced by the Swiss influential genius of abstract art, Paul Klee, who is among the many artists he admires.
His works tell the tale of the various events and experiences he has absorbed he says his focus is not in depicting the sociological and political situations he "often thinks about."
'Compartmentalising'
In his over 30-year exhibition career, the 'compartmentalising' feature of his works has been most dominant. Often, there are arrayed structures, and good use of space - which is very important to the artist - which are sometimes filled in with gradient colour washes and/or patterned brushstrokes, still sufficiently left as a complimentary background to the intricate foreground designs, whic they can be characterised by liberal lines, have some sense of notable order.
There is a blend of surrealism in the joyous works, mostly done as mixed media on paper, which are somewhat musical. Moo Young is bolder in some of his works such as 'Configure' and modest in others, as 'Totemistic'.
In the designs, there are identifiable shapes and forms such as in 'Backbone of the Economy', where an illustrated backbone is literally superimposed on an abstract set of shapes.
As a trained graphic designer who has visited many fine-art galleries worldwide, his intuitive paintings are balanced in design, use of colour, shapes and space, and the hint of textures is complimentary.
'More Stolen Oranges' was inspired by the observed results of praedial larceny (agricultural theft).
Cecile Comblen, whose works are placed on the walls opposite to Moo Young, is more liberal. There are shapes floating atop seas of colour, unlike Moo Young's whose details incorporate the bordering space. This is evidence of her love for the physicality of painting. In her works themes such as birth, life, death and divinity are borne out as she is governed by human experiences. From 'A Big Fish to Handle' to 'Happy Moments We Shared' Comblen highlights her own personal joys and struggles.
Among her arresting pieces, done mostly in acrylic on canvas, are 'A Big Fish to Handle' and 'Touching 20'. In the middle of the room hangs a 'View From My Vincey Window', a collage and acrylic on wood depicting a window of four panes, but with eight images, four on each side. Notably, the colours are different on either side.
Her piece, 'Primary Feelings', seems to summarise well all Comblen's works on display. In this piece, there is liberation and vibrancy in the use of colours.
Shapes, which combined with the abstract connotations of body parts such as the breasts, set the viewers free to exhale.
Guest speaker Dr. Aggrey Irons anused the attendants and kept the atmosphere informal and light with his address.
"Moo Young, he exposed as a conservative businessman with the ability to allow creativity to flow in his 'compartmentalising' works.
He said Cecile Comblen was one who used body parts freely. In her works he observed the free use of the body parts of 'her ancestors', musical notes and organic cells.
He recommended various works for various politicians, such as 'Stolen Oranges' for the minister of agriculture, and 'Incision' for the minister of health.
On the exhibition overall, he advised viewers to "put yourself into it and you will get what you need to."
Anthea McGibbon, a graduate of the Edna Manley College of the Visual and Performing Arts, has more than 10 years experience in the fields of journalism and the arts. Contact her at islandartattack@yahoo.co.uk or anthea.mcgibbon@gleanerjm.com.