Following in his father's footsteps
Published: Sunday | October 4, 2009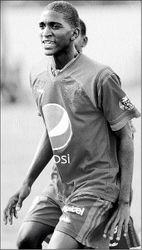 Ricardo Makyn/Staff Photographer
Camperdown's Manning Cup player Damion Lowe.
Ryon Jones, Gleaner Writer
Sixteen-year-old Damion Lowe, son of former national striker Onandi Lowe, is following in his father's footsteps and has been reaping early success. Young Lowe started playing football from the tender age of nine while attending Vaz Preparatory School, where he was able to score 27 goals in one season.
With his father a former outstanding defender and forward for the Reggae Boyz, Lowe believes that it was only natural that he played football.
"Everyone in my family likes football so it just happened," he said. "My father inspires me a lot, and not only him, but my mother too. I have a very close relationship with my father, he gives me tips about what to do and what not to do," Lowe added.
Damion moved on from Vaz Preparatory to represent Kingston in the under-13 and under-15 parish leagues. He won the under-13 crown with Kingston in 2006 and repeated the feat with the under-15 team in 2008. He is currently a member of the Harbour View Football Club, a team his father played for in the past. Damion Lowe played a significant role when his club won the under-15 championship in his second season, and followed up the following year with nine goals in three games. He is now a member of the Camperdown High ISSA/Pepsi/Digicel Manning Cup team, where he plays as sweeper. However, he put his versatility on show in a recent match against Meadowbrook, where he played one half in defence and was switched to forward in the second.
Quality to play anywhere
Camperdown's coach, Orlando Clarke, said the young player has the quality to play anywhere on the field.
"So I use him wherever I see the team needs him," Clarke said.
Lowe has ambitions of representing Jamaica in the future.
"I want to play for my country, from the junior level right up to the senior level," he Lowe said. "I want to play centre-half for Jamaica."
This is a bit of a surprise, as Onandi Lowe started out as a defender before developing into a top forward for Jamaica. Damion Lowe is seeking to do the reverse, having started out as a forward he now wants to play in a defensive role at the highest level. "I prefer to play defence as I am stronger there," he said.
His long-term goal is to one day play for European giants Manchester United, and gives his favourite international players as Portugal's Cristiano Ronaldo and Nani; while locally he naturally looks up to his father and Christopher Harvey of Harbour View.
The opinions on this page do not necessarily reflect the views of The Gleaner. The Gleaner reserves the right not to publish comments that may be deemed libelous, derogatory or indecent. To respond to The Gleaner please use the
feedback form.