Fraser adds World title to Olympic crown - Sets new national record at 10.73 - Jamaica cops silver, as Kerron Stewart finishes in fast 10.75
Published: Tuesday | August 18, 2009
Elton Tucker, Assistant Editor - Sport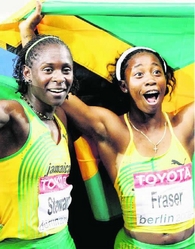 ( l - r ) Fraser, Stewart
Berlin, Germany:
Shelly-Ann Fraser sped to a national-record 10.73 seconds to add the world 100 metres title to her Olympic crown at the 12th IAAF World Championships in Berlin, Germany, last night.
Two Jamaican women hit the line almost together as Kerron Stewart bagged silver in 10.75 to equal her personal best, which was set earlier this season.
Fraser did not reach the dizzying heights of Usain Bolt, who set a new men's mark on Sunday, but she clipped one-hundredth of a second off the national record set in September 1996 by the great Jamaican sprinter Merlene Ottey.
American Carmelita Jeter prevented a repeat of the Beijing sweep when she took the bronze in 10.90.
Bullet-start test
Jeter, in fact, had looked the favourite for gold after the first two rounds but Fraser tested her bullet start in the semi-finals with a 10.79 season-best clocking and again put it together in the final to hold off the fast-finishing Stewart.
Defending champion Veronica Campbell-Brown was fourth in a season-best 10.95 and Aleen Bailey eighth in 11.16, as Jamaica paraded four athletes in a final at the World Championships for the first time.
Only three countries were represented in the final. The United States and The Bahamas both had two representatives.
"I am happy and excited as I have really worked hard for this," said Fraser, whose victory was all the more remarkable as just over three months ago she had an appendectomy.
Last night, she admitted that there was still some discomfort from the operation.
Fraser, who flashed a broad smile after hitting the line and paraded in front of the stands at the Berlin Olympic Stadium wrapped in a Jamaican flag, said the title "world and Olympic champion" gave her a great deal of satisfaction. It made her feel "so good".
"Who would not be excited? I feel like running outside and screaming," she said with a broad smile.
"I wish we had got 1-2-3-4 but it did not happen, maybe next time."
Stewart was satisfied with her silver medal.
"If I am going to run 10.75 and still get beaten, that just shows the quality of the field. It shows that Jamaica is taking track and field to a new and higher level. This was a great race with an amazing time for Shelly-Ann and I."
Ver fairly satisfied
Also fairly satisfied with her run was the defending champion, Campbell-Brown.
She finished out of the medals but still ran a season-best 10.95.
"My season has not been the best - but that's track and field, you win some and lose some," the Olympic 200m champion said.
American Carmelita Jeter, many people's favourite after the first two rounds, was a very disappointed woman.
"I just got left in the blocks," she said.
Jamaica's medal tally at the championships is now two gold, a silver and one bronze.
It puts the team in second spot with four medals behind Russia with five - two gold, a silver and two bronze. The United States are in fourth with a gold, two silver and a bronze.