STORY OF THE SONG: 'Black Cinderella' developed from a poem
Published: Sunday | June 28, 2009
Mel Cooke, Gleaner Writer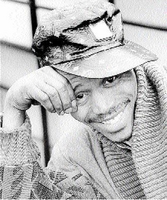 Errol Dunkley
In 1972, when Jimmy Rodway showed Errol Dunkley a poem he had written, Dunkley was already a bona fide music star.
After Dunkley had made some adjustments to the lines to hone them into a song, recorded at Dynamic Studios, he became the singer of an enduring reggae anthem which has long outlasted the number-one position it held on the charts for some weeks.
The song is Black Cinderella, which came out on Rodway's Fimi Time label and is embraced as a tribute to black women.
"He came to me, because he wanted me to do the recording," Dunkley told The Sunday Gleaner. "At the time, me and Gregory Isaacs had started the African Museum label. At the time, I had a couple hit songs, like Movie Star. That was the follow-up to Movie Star."
The poem already had the name 'Black Cinderella', which immediately resonated with Dunkley. "I go to school hearing about this Cinderella story, this pretty Cinderella as a white girl who do the washing and cleaning. But when you check it, is the black woman who is always the Cinderella. She do the washing and cleaning and look after the children and the white woman too," Dunkley said.
Black Cinderella turned out to be more of a love song than a tribute to hard-working black women, Dunkley singing:
"Where can I find my black Cinderella
She cannot be far away."
It is a song with few lines, Dunkley going on to sing that he needs to "give her happiness". And if he could locate her "I would be a happy man".
Among the musicians who played on the song were drummer 'Tin Leg', bass guitarist Jackie Jackson and keyboard player Winston Wright.
"It was a right-off shot. From the day it drop it was a shot," he said.
It could not have hurt that Black Cinderella came out close to the beginning of a decade in which many Jamaicans rediscovered black.
The first time Errol Dunkley performed Black Cinderella, he could see only a few of the persons who were enjoying it, but he still knew that thousands were rocking. "It was on JBC TV. They had a programme called 'Where It's At'. I was like 15, 16 at the time, very young youth," Dunkley said.
He told The Sunday Gleaner he fell out with Rodway and, although he did another converted Rodway poem, Keep The Pressure Down, he did not do Mother Lisa, which should have been their follow-up to Black Cinderella. Instead, Leroy Smart performed the song.
Dunkley points out also that Rodway's lyrics were performed by other singers, including Hortense Ellis (Hell and Sorrow).
Among Errol Dunkley's chart-toppers are You're Gonna Need Me and Love is Amazing, with Movie Star (later remade by Buju Banton and Wayne Wonder), going to number two.