LIME 3G hits the market - Roll-out starts in the capital, islandwide coverage to be phased in
Published: Wednesday | June 24, 2009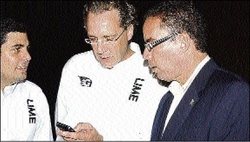 LIME Jamaica country manager Geoff Houston (centre) demonstrates a feature of his mobile phone to Minister without Portfolio in charge of telecommunications, Daryl Vaz (left), at the launch of LIME's 3G network at the Jamaica Pegasus hotel on Monday. At left is LIME executive vice-president Mariano Doble. - Winston Sill/Freelance Photographer
Saying its new mobile service will be 20 to 100 times faster than other high-performing technology, LIME Jamaica will, starting today, roll out its 3G service to its subscribers.
But LIME, which is not saying just how much new business it expects from this arrangement, will deliver 3G coverage in phases starting in sections of Kingston, St Andrew and St Catherine.
The plan, however, is for islandwide coverage.
Mariano Doble, LIME's executive vice-president for commercial services, says the technology will offer mobility, download speeds of 3.6 megabits per second, or 100 times faster than General Packet Radio Service and more than 20 times faster than enhanced data rates for GSM evolution.
"It means real-time access, which means productivity, but on top of that, it is about mobility," said Doble on Monday night at the launch of the technology at the Jamaica Pegasus in New Kingston.
No boundaries
"It is about mobility, breaking away from the office, cables and even from the hotspots. That means that there are no boundaries for you to get the things you need to get done," he said.
Geoff Houston, country manager at LIME Jamaica, said the company hopes to blanket Jamaica with the 3G service within 12-18 months.
"At this stage, we are very focused on our post-paid customers and we'll be offering a prepaid service in the very near future," said Houston.
"So we are focusing on customers who need a genuine high-speed mobility around the Kingston Metropolitan Area," he told Wednesday Business.
LIME was beaten by Claro Jamaica with its 3G platform, but both are ahead of Digicel Jamaica, which says it plans to take its service a step further by going 4G.
LIME's new mobile service will see subscribers paying $40 per megabit for a 'Pay As You Use' 7GB plan designed for heavy users.
LIME 3G is also available for fixed wireless at $2,550 per month for 7GB users.
US$40 million project
So far, the company has expended US$40 million to roll out the project in the capital.
"I will expect over the course of the next 12 to 24 months that our market share will start to grow significantly," Houston told Wednesday Business.
"... With three players in the market, we expect to see some normalising of the market shares. We are expecting significant gains, particularly in the initial phases in the business market," he said.
LIME Jamaica does not comment on on its market share, but previous reports dating back a year or more have put its subscriber base at some 660,000, a distant second behind Digel's two million but well ahead of Claro's 270,000.
Digicel is said to be awaiting final approval from the Spectrum Management Authority, but with 4G, the Irish-owned company has said it would package a comprehensive IP solution where voice, data and streamed multimedia would be available to subscribers on an anytime, anywhere basis, and at higher data speed than 3G.
dionne.rose@gleanerjm.com