Bunny Wailer's 'Blackheart Man' remastered
Published: Monday | June 15, 2009
Mel Cooke, Gleaner Writer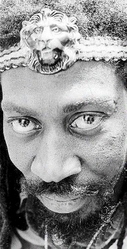 Bunny Wailer
Thirty-three years after it was made, Bunny Wailer's classic, Blackheart Man, album, has been given a crisp digital remastering and is being reissued, initially via download, Zojack Worldwide handling the arrangements.
Some of the songs are longer than when they were first released in 1976 as Bunny Wailer, who told The Gleaner he is responsible for the project, has added dub tracks to some of the original songs ("So you can get a little bit for your money, a little bit more for your listening," Bunny Wailer says). Apart from those additions, the songs have been kept strictly original, with the sound being improved.
The track listing has been kept the same, so the 10-track Blackheart Man starts out with the title track and continues with Fighting Against Conviction, The Oppressed Song, Fig Tree, Dream Land, Rastaman, Reincarnated Souls, Amagideon (Armageddon), Bide Up and This Train.
Wailer says, "We start out with the most current medium, which is downloading, that is where everything revolutionise in the whole business, so there is the first approach to get the Blackheart Man and the whole Bunny Wailer catalogue back in the streets."
Clean-up process
The reissued Blackheart Man will eventually be available on CDs and vinyl as Wailer says, "We intend to get it back out in the streets through all them mediums."
Along with the reissuing is a drive to stop unlicensed persons from using his material, "so is a clean-up process dem a gwaan wid right now in order to get the road clear, so when a one a deal with it it a come through one source.
"My whole thing now is to put my stuff forward in the streets under more control and at the same time independence; me a try maintain that while at the same time mi can clean up mi stuff, get them more up to date, sounding better," Wailer says.

"I haven't tampered with them in any way, like add any instrumentation. All I have done is improve the sound that is already there."
Blackheart Man is Bunny Wailer's first solo full-length project, but he points out that it is not "just a Bunny Wailer album, but it is like the most outstanding reggae classic of this time, coming from Bunny Wailer. It sort of exceptional compared to other albums of the same nature, reggae-wise. It is really, really exceptional and I personally don't think I could better the album, Blackheart Man, because all of that is my life's history up to that point.
"To relive, go back and reverse history fi come back with suppen better than Blackheart Man, I don't think that woulda work. I would a go haffi live another life period leading up to the nex, one about the same amount a time whe the Blackheart Man lead up to. So I don't think them things ago happen again," Wailer says.
"I will make good albums, yes, for I have made good albums - Liberation, Protest, Struggle, My Father's House, Rock and Groove. All them album is really good album - Marketplace. But Blackheart Man is really an exceptional album, as to the valuation of the message and the amount of people who have received that message and have made themselves better people through them lives within the spiritual and cultural settings that the Blackheart Man exhibits."
Wailer points out that in many places where he has travelled, people have told him about the profound effect that Blackheart Man has had on them and he also sees people in their teens singing songs from the album word for word. And he says, "I too learn from the Blackheart Man.
Inspiration
Although it come outta my mout, me still have to sit down and listen and learn, because is inspiration a come from the father himself.
"Blackheart Man has strengthen I to maintain I spiritual being."
Wailer plans to reissue his catalogue in the same chronological order as the albums were released originally. And he believes that he is off to a good start with Blackheart Man, based not only on his judgement, but also the assessment of those who have heard the remastered set.
"I am satisfied that everybody feel good "bout it," Wailer says.