Reparations committee gets started
Published: Tuesday | May 19, 2009
Kimesha Walters, Gleaner Intern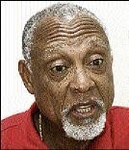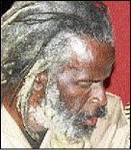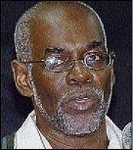 ( L - R ) Chevannes, Manning, Lewis
"I don't want this to be a shop-talk commission. I'm worried about that part of it, because we had a ganja commission and especially the Rasta community who is involved with the ganja we don't understand what come out of it." - Manning
Ras Junior Manning, from the African Millennium Council, says the Government has shown some maturity in establishing the National Commission on Reparations, but begged that it not remain a 'shop-talk commission'.
"The Government is showing some maturity by listening and I give thanks for that," said Manning, who was speaking at the inaugural meeting for the National Commission on Reparations, held at the Ministry of Youth, Sports and Culture.
"I don't want this to be a shop-talk commission. I'm worried about that part of it, because we had a ganja commission and especially the Rasta community who is involved with the ganja, we don't understand what come out of it," said Manning, who is also a member of the committee.
Professor Rupert Lewis, Garvey scholar, said the commission would make a difference.
"I don't think it will be a talking shop. Once our population is involved, the demands they will make on us and the Government will save us from the talking shop."
Minister of Youth, Sports and Culture, Olivia Grange, expressed gratitude to the committee members.
"I want to thank the members who accepted and are willing to serve on this commission, which could be very controversial and at times very challenging because the subject is very emotional and will involve a very wide spectrum of opinions and attitudes," she said.
Professor Barry Chevannes, chairman of the committee, said, "There are some who say we should let things lie, slavery is so long ago, we should get on with our lives and just look forward. But I think those who argue that way are quite short-sighted."
He noted that without correcting the wrongs of the past, the future could not be assured.
Among the recommendations for the committee is that it receive submissions, hear testimonies, evaluate research and studies, and undertake public consultations as necessary.
Other committee members are Garth Whyte, historian and musicologist; Jeanette Grant-Woodham, educator; Lord Gifford, attorney-at-law; Tanya Batson-Savage, a member of Grange's secretariat, and Dorona Parchment.