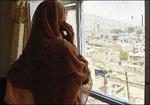 AP
An unidentified Afghan prostitute chats with one of her friends on a phone in her Madame's house in Kabul, Afghanistan. Here in Jamaica, prostitution is linked to human trafficking and the country has been removed from its less favourable Tier 3 rating to a Tier 2 assessment in human trafficking by monitoring agencies.
Avia Collinder, Sunday Gleaner Writer
WHILE THE recent United States State Department's human trafficking report indicates no one in Jamaica has yet been convicted for the offence, the police are actively pursuing eight cases in local courts.
At the same time, the police are strongly warning Jamaicans to beware of job and education offers that seem too good to be true and could lead to sexual exploitation and abuse. Since 2007, Jamaica has been removed from its less favourable Tier Three rating to a Tier Two assessment in human trafficking by monitoring agencies. However, trafficking remains a problem.
Convictions
The June 4 State Department report expressed 'deep concern' about "missing measures to prevent the proliferation of sex tourism and its consequences". Concern is also expressed about "school dropout rates", which are said to be increasing as young girls are "induced to leave school to enter the sex trade, sometimes even with the consent and encouragement of parents who benefit from their earnings". Against this background, the State Department report recommends that the Jamaican Government increase efforts to investigate and prosecute human traffickers.
Locally, the Trafficking in Persons Act became effective on March 1, 2007, and prescribes penalties of up to 10 years' imprisonment. However, no convictions have yet materialised. But, the police, noting that there are a total of eight cases now in the courts - one in circuit and seven in Resident Magistrates' courts - say that their efforts will soon bear fruit.
Detective Inspector Errington Malcolm of the Organised Crime Investigation Unit in Kingston tells The Sunday Gleaner the cases will most certainly lead to convictions, although some witnesses are reluctant to engage in full disclosure.
"People have their own pride. They do not want you to know that they subjected themselves to things which will result in embarrassment," the detective explains. But, he notes, "these are straight cases which are not difficult to prove".
Malcolm says that a special hotline (1-888-VICTIM) has been created in the Ministry of Justice to help those who have been trapped, and cautions Jamaican women especially to beware job offers which seem to come too easily.
The problems arising from human trafficking is said to affect an estimated 50,000 women and children in the Caribbean region. Since April 2006, nine victims of human trafficking have been rescued in Jamaica, six of whom were over 18 years old and three between the ages 13 and 17. Five persons were charged with trafficking a child, under the Child Care and Protection Act, 2004.
Rescued teenager
In October 2007, police attached to the Centre for the Investigation of Sexual Offences and Child Abuse (CISOCA) charged three persons who were allegedly involved in a human-trafficking ring after raiding a premises on Cooper Drive in Constant Spring, St Andrew. They rescued a 17-year-old girl who was reportedly being held hostage after responding to an advertisement seeking persons to work in a massage parlour.
The police note that they were successful in 2005 in stopping the trade of exotic dancers in Culloden, where young girls and women were weekly auctioned off to club owners in Westmoreland. Assistant commissioner of police responsible for serious and organised crime, Leslie Green, says the police is well aware of the illegal activity, in general, and would be moving soon to increase prosecutions. According to Green, "We know that people are being trafficked, but getting the information required is a challenge. We are not turning a blind eye.
The victims
Victims of human trafficking are poor Jamaican women and girls, and increasingly boys, who are trafficked from rural to urban and tourist areas for commercial sexual exploitation.
They are typically recruited by family members or newspaper advertisements promoting work as spa attendants, masseuses or dancers.
After being recruited, victims are coerced into prostitution. Jamaican children also may be subjected to conditions of forced labour as domestic servants.
Traffickers also invite youngsters to live with families, go to school and get an education by word of mouth, usually because they do not want to leave a trace.

Source: US State Department Report, JCF Organised Crime Unit

Be aware!
If you hear about something too good, find out more about it.
Try and get references
Don't just leave with strangers.
Do not go anywhere blindly.
Notify someone you can trust before you go headlong into a situation.

Source: JCF, Organised Crime Unit