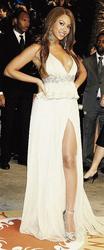 Beyonc - Reuters photo
Bangshowbiz:
Beyonce Knowles feels sexiest with bare feet and messy hair.
The Dreamgirls star, who has dated rapper Jay Z for five years, says women who are not overtly sexual are the most attractive.
Beyoncetold Cosmopolitan magazine: "I like to walk around my house with bare feet and messy hair, but that can be sexy, too.
"I have an old-fashioned view on sexuality, in that I don't think it should be in your face.
"It's the opposite of who I am on stage."
The singer and actress also revealed she took part in beauty pageants as a child but hated them and dressed like a tomboy.
She said: "We all have our insecurities and, to this day, I see plenty of things wrong with myself.
"As a young girl I did beauty pageants, but I hated them. I always wore baggy clothes and never won.
"I was a bit of a tomboy when I was a kid and never really thought of myself as pretty."