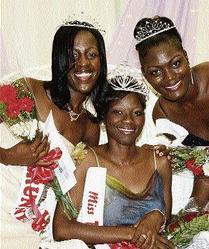 Trelawny Festival Queen 2007 Coleen Robinson (centre) is flanked by first runner-up, Khadine Walker (left), and second runner-up, Taneisha James, just after the crowing at the Starfish Resort on Sunday. - photo by Richard Morais
Richard Morais, Gleaner Writer
COOPERS PEN, Trelawny:
Coleen Robinson, a 22-year-old teacher at the William Knibb Memorial High School, walked away with the Miss Trelawny Festival Queen crown on Sunday.
In wining the top prize, she also won the Most Culturally Aware sectional prize. Among her prizes are $30,000 and $10,000 from the Trelawny Cooperative Credit Union and Jamaica National Building Society respectively.
She also takes home a 20-inch flat-screen television and a fan, courtesy of Singer and Courts Jamaica Limited respectively, as well as a cellular phone from Digicel.
Six ladies entered and it was one of those very keenly contested events in which the spinning of a die could well decide the winner and no one would have been dissatisfied.
Second for Khadine Walker
At the end, however, it was Robinson who got by Khadine Walker who came in second and Taneisha James who came was placed third. Best Performance went to Walker and Most Congenial to James.
While the MC's, Odell Whyte and Kadeen Carter, were articulate except when a tongue twister floored Whyte in an interview which drew some laughter, there was a major foul-up. A cardinal sin at any contest is misplacement and hence, when the third-place winner was announced as the second-place winner and a judge had to make the correction, it did not go down well with the audience. This was the only glitch at a well-produced event.
In recent years, the standard of shows staged by the Jamaica Cultural Development Commission has vastly improved, pulling in fairly large audiences an rain inundated the parish up to an hour before the scheduled start, a large audience turned out for the event.