Moments With Miss Lou

"Dis long time gal me never see you
Come mek me hol' yu han'"


IF YOU were a child in the 60s and 70s, this very song will bring a smile and the memory of Miss Lou, Dr. the Honourable Louise Bennett-Coverley, who for years made us laugh with her TV show Ring Ding, her songs, her pantomime performances and her dialects, written and performed.
Our Emancipation and Independence celebrations this year include a recollection of the activities of this worthy woman, known as Jamaica's First Lady of Comedy. Here is what Jamaicans at home and abroad, on the worldwide Web, have to say about her:
* Xavier Murphy at www.jamaicans.com
"Many of us never got the opportunity to thank you for the joy you brought us at childhood with your national TV show Ring Ding. We will never forget the many Jamaican poems, stories and proverbs you taught us. Miss Lou you are Jamaica's folklore ambassador and educator. As an actress, dramatist, storyteller, poet and broadcaster you have paved the way for many Jamaican entertainers. You and the late Mas Ran (Ranny Williams) changed the face of entertainment in Jamaica and allowed Jamaicans to be 'Jamaicans'. You took patois to the masses and lifted the stigma that our unique dialect was for second class Jamaican citizens. In a nation that is sometimes divided by politicisation you have always brought us together using saying like 'Tek kin teet kebber bun heart'. You keep us laughing while always paying trib ute to our great Jamaican motto 'Out of many, One people'. Thank You Miss Lou and 'Clap Yuhself'."
* Aston Cooke at www.dwightday.com
"I had the distinct pleasure of visiting with Miss Lou and her husband Eric 'Chalk Talk ' Coverley at their home in Toronto, Canada. Also present were Jamaican actresses Leonie Forbes and Marcia Brown. We had a great time with Miss Lou and Mas Eric. I left feeling youthful and refreshed. Both Miss Lou and Mas Eric exude a youthful, almost childlike charm, which belies their age. Miss Lou's laughter is still infectious, her mind agile, exciting, witty, and she still remembers most, if not all her poems."
* Lloyd Chung at www.stgctoronto.com
"This gracious lady is a great storyteller. (During his visit with her in Canada) we started singing, and even if I cheat a bit when I tell my grandchildren about meeting Miss Lou, I most certainly will say that I sang with this internationally famous lady. We sang Evening Time, a song she co-wrote with Barbara Ferland, The Buggy Bruk, and quite a few more. I also had the pleasure of meeting her husband, Mr. Eric Coverley, the famous showman-impressario, who displayed an artistic talent that I never knew about. He showed me some of his drawings, which were quite impressive. I finally had to leave as I had a meeting planned at another venue, but I certainly had the greatest excuse for being late, and quite a story for my grandchildren."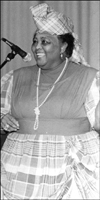 And in 2001 when she was awarded the national honour of The Order of Merit, that to many Jamaicans, was long overdue. So they lauded her:
"She is one of the greatest living icons of Jamaica and the wider Caribbean. She has demonstrated the power of the language we have created for ourselves without having to resort to slackness or indignity," stated Professor Rex Nettleford, Vice Chancellor of the University of the West Indies.
"Miss Lou's contribution goes beyond nice poems and preserving Anancy. She brought a message at a particular time of our history, which goes beyond that time ... The sad thing is that this generation may not appreciate Miss Lou for who she is," said storyteller Amina Blackwood-Meeks.
"I think it is richly deserved, certainly one of the people who I would expect to have it and it has come around to her at last," said Mervyn Morris, the noted poet and lecturer.
When she arrived in the island for the Emancipation and Independence celebrations on Tuesday she said the reception was one of the most "boonoonoos welcome" she was ever receiving.
A line from one of the songs she loves to sing says: "Fi mi love have lion heart... (also) fi mi love will neva die."
Well Miss Lou: Fi we love have lion heart... fi we love will neva die.
You remain one boonoonos woman.
---

See Also A Tribute To Miss Lou