Not an easy road, Buju held for cocaine possession in the United States
Published: Sunday | December 13, 2009
Livern Barrett, Staff Reporter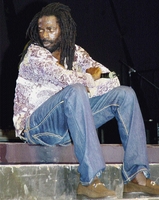 GRAMMY-NOMINATED deejay Buju Banton is being held in the Federal Detention Centre, Miami, Florida, in the United States following his arrest last Thursday on drug-related charges, a Miami Police Department spokesman confirmed yesterday.
The internationally renowned artiste whose real name is Mark Anthony Myrie was held with "a large quantity of cocaine", according to the law-enforcement agent who identified himself as Officer Gonzalez.
"He is here ... I can't tell you when he will go to court or anything like that, but yes, he is here facing a charge of possession and the intent to distribute cocaine," Gonzalez told The Sunday Gleaner.
He said details of the arrest and subsequent charges would be released tomorrow morning. When asked if and when bail would be offered, Gonzalez said, "I am not in a position to disclose that information."
caught on surveillance camera
The Sunday Gleaner was unable to get confirmation of the arrest from the Police High Command in Jamaica and key government sources who had "only heard rumours". This suggests that the local authorities had not been informed of Banton's arrest in the US. Currently, there is tension between the Jamaican Government and the US authorities regarding another narcotics matter.
While tight-lipped about details of the arrest, Gonzalez said that the 36-year-old entertainer had been held with "another person".
Sources say Buju and another man were caught on surveillance camera.
A search on the Federal Bureau of Prisons' website yesterday revealed that one "Mark Anthony Myrie, 36, black male" was in custody at the Federal Detention Centre in downtown Miami and listed an inmate number.
Several attempts to contact representatives of Buju's record label, Gargamel Music, were unsuccessful.
Coming off what has been described as one of his most successful, if not controversial, North American tours, Buju has been riding a string of successes, which culminated in his nomination for the prestigious Grammy Award for Best Reggae Album.
The tour, organised to promote his new album, Rasta Got Soul, was dogged by massive protests by gay and lesbian groups across the US, which said his anti-gay lyrics promoted violence against them.
Buju subsequently met with leaders of the gay community in San Francisco in an attempt to salvage the tour.
The opinions on this page do not necessarily reflect the views of The Gleaner. The Gleaner reserves the right not to publish comments that may be deemed libelous, derogatory or indecent. To respond to The Gleaner please use the
feedback form.