Max Romeo honours Neville Willoughby
Published: Sunday | November 15, 2009
Howard Campbell, Gleaner Writer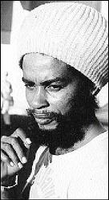 Max Romeo
Reggae singer Max Romeo has launched an award in memory of broadcaster Neville Willoughby who died three years ago in an auto accident. The inaugural ceremony takes place December 5 at the community centre in Treadway, near Linstead, St Catherine.
Romeo was one of the last guests on Willoughby's popular The Evening People Show on Radio Jamaica (RJR) in December 2006. He said they first met at RJR in the late 1960s when Romeo was promoting I'll Buy You A Rainbow, one of his first songs.
"Neville will always have a special place in my heart. He was a humane person who helped a lot of people," Romeo told The Sunday Gleaner.
first recipient
The Neville Willoughby Award was conceived by Romeo and music industry stalwart Tony Mack, who is also publicist for the singer's Charmax Music company. Broadcaster Elise Kelly of IRIE FM will be its first recipient.
Singers Jimmy Riley and Warrior King, who have recorded for Charmax, are scheduled to perform at next month's show. So too Romeo's sons, 12-year-old Ronaldo and 10-year-old Romario.
Willoughby, who was 69 when he died, had strong ties to the music business. His father, Newton Willoughby, was a lawyer who represented Danny Sims and Johnny Nash, the American impresario and singer who lived and worked in Jamaica during the 1960s.
major interviews
While at RJR and the Jamaica Broadcasting Corporation, Willoughby interviewed several major acts including Bob Marley who was on the verge of an international breakthrough. His 1973 interview with Marley at the Rasta commune in Bull Bay was later released as an album and is still widely used as a documentary piece.
About the time Willoughby interviewed Marley, the St Ann-born Romeo (real name Maxie Smith) was making waves with producer Lee 'Scratch' Perry.
Some of the songs he cut for Perry, including War In A Babylon and One Step Forward, are rated among the best of the 1970s when roots-reggae was the rage.
Romeo, who turns 65 on November 22, continues to record and tour, particularly in Europe where classic roots-reggae maintains a strong following. His last album, A Little Time For Jah, was released in Europe in 2008.
The opinions on this page do not necessarily reflect the views of The Gleaner. The Gleaner reserves the right not to publish comments that may be deemed libelous, derogatory or indecent. To respond to The Gleaner please use the
feedback form.