Seiveright new G2K president
Published: Wednesday | November 11, 2009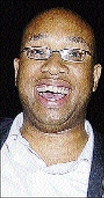 Delano Seiveright
Delano Seiveright is the new president of Generation 2000 (G2K), the group of young professionals affiliated with the Jamaica Labour Party (JLP).
Seiveright becomes the fifth president of the organisation, after being elected to the position at the organisation's annual general meeting at the JLP's Belmont Road, New Kingston, headquarters on Sunday.
Four vice-presidents were also elected: Robert Collie, Rayharna Wright, Andrew Warwar and Richard Porteous.
"This is a very overwhelming task on my part, but I don't think I am on a suicide mission, because Warren Newby survived and he survived well," he said.
Excellent service
Seiveright further thanked Newby for what he called excellent service to the youth organisation over the past three years.
"I want to thank him for being a mentor to me and the vice-presidents who have been elected," he added.
Seiveright said he had a tremendous task at hand, but that he and his team were prepared to move aggressively to effect change.
His main aim, he said, would be to engage more young, bright professionals in the political process, so that they can be in a position to effect change and transformation.
"We are also going to be more aggressive when it comes to policy positions," he said. "We are going to be aggressive in our stance that we need to break down the walls of tribalism and polarisation that have beset the country for so many years," he added.
"We want to also focus on building and strengthening the JLP's political organisation, whether it be campaigning, advertising, public relations, polling or constituency management."
Prime Minister Bruce Golding also commended Newby for the "extraordinary leadership he offered to the G2K while he was president".
He also congratulated Seiveright on his election and said he believed he came to the position equipped with tremendous skills and expertise that would serve him well in his endeavours.

The opinions on this page do not necessarily reflect the views of The Gleaner. The Gleaner reserves the right not to publish comments that may be deemed libelous, derogatory or indecent. To respond to The Gleaner please use the
feedback form.