MoBay's animals go to the vet
Published: Thursday | October 22, 2009
Christopher Thomas, Gleaner Writer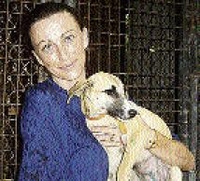 Dr Tammy Browne, director for the Montego Bay animal haven, poses with one of her canine patients at the World Vets clinic on Sunset Boulevard, Montego Bay. - photo by Christopher Thomas
WESTERN BUREAU:
Numerous dogs and cats in Montego Bay, St James, have received voluntary spaying and neutering treatment over the past week, thanks to an international veterinary organisation.
World Vets, a North American non-profit organisation dedicated to animal care worldwide, has been in Jamaica since Monday, collaborating with local veterinary groups to spay and neuter dogs and cats - both pets and strays - that have been brought to them at their temporary clinic on Sunset Boulevard.
"We're coordinating with the local people, volunteers, veterinarians and animal welfare people to coordinate this clinic and allow it to happen, and we've had great response," said Dr Suzanne Coulson, veterinarian and trip leader for the World Vets workers.
The clinic has 15 World Vets volunteer workers from the United States on this trip to Jamaica, with their visit scheduled to last three and a half days. This is the group's first trip to Jamaica.
Dr Sarah Eytle, president of the Jamaica Veterinary Medical Association (JVMA), told The Gleaner that last December the organisation collaborated with the International Spay-Neuter Network in a bid to control the pet population in Jamaica.
"In a lot of the major centres - Kingston, Montego Bay, a lot of the towns - there is an overpopulation of stray dogs and cats ... so we decided to address it," she said.
Removal of parts
Spaying refers to the removal of the womb and other reproductive organs from female animals to prevent conception. Neutering is the removal of male animals' testicles to prevent them from reproducing further.
The response from the public has been so great that the clinic has had to turn back several people who have come to them with their pets. There was even a woman from Negril who brought a busload of animals.
"We generally can do 70 to 80 animals a day ... some of them have some extra wounds that we treat, and so we're maxed out. There's definitely much more need and interest here, which is great," Coulson admitted.
christopher.thomas@gleanerjm.com

The opinions on this page do not necessarily reflect the views of The Gleaner. The Gleaner reserves the right not to publish comments that may be deemed libelous, derogatory or indecent. To respond to The Gleaner please use the
feedback form.