Fit again, Smith has sights on season-best in triple jump
Published: Saturday | June 27, 2009
Leighton Levy, Gleaner Writer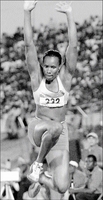 Trecia Smith - File
Four-time national triple jump champion and 2005 World Champion Trecia Smith is coming into these National Championships healthier than she has been in a long while.
It has taken her three years to overcome a herniated disc that rendered her incapable of performing at her best in the triple jump. Now that she is healthy again, she is confident of doing well tonight as she pursues a place on the national team that departs for Berlin later this summer.
"I am very confident about jumping tomorrow (today). I am better prepared than I have been in the last three years. I am fully healthy. I have been able to train without pain," she said, speaking from her hotel room in Kingston yesterday.
Smith, a seven-time NCAA champion that included two outdoor and three indoor long-jump titles and one outdoor and one indoor triple jump title while at the University of Pittsburgh, has a season's best of 14.26m in the triple jump set in Fortaleza in early May. She believes she is capable of going well beyond that distance at these championships, but was more cautious about breaking the 15-metre barrier.
Fifteen metres possible
"Fifteen metres is possible, but not tomorrow," she said. It will be by August, she said, as she continues to prepare once she makes the team to Berlin.
And, despite the potential competition from other jumpers, like rising star Kimberly Williams who has jumped beyond 14 metres this season, Smith says she will remain focused only on what she has to do. She admits that Williams has amazing potential but "I am not looking at anybody else, I am looking at me, not anybody else," she said.
A 15-time All American, Smith said unfulfilled desires kept her motivated during the last three years when her back injury threatened to end her career. She believes the triple jump world record of 15.50m, set by the Ukraine's Inessa Kravets in 1995, is weak, and she is out to break it. "I want to challenge the world record. It's not unreachable," she said.
The injury may have helped her in other ways as well. Smith, the 2006 Commonwealth Games champion who turns 34 in November, explains that because she has not been able to compete much over the past three years, her body has not had to undergo the rigours of training and competition and could help prolong her career - not that she had designs on quitting any time soon.
"I have not put a time limit on myself," she said, adding that she would continue competing as long as she had the motivation.
Today's events
5:00 p.m. Men's 3000m steeplechase final
5:30 p.m. Women's shot put final
5:30 p.m. Women's 400m semis
5:45 p.m. Men's 400m semis
6:00 p.m. Men's high jump final
6:10 p.m. Women's 100m semis
6:20 p.m. Men's 100m semis
6:30 p.m. Women's triple jump final
7:00 p.m. Men's discus final
7:00 p.m Women's 1500m finals
7:10 p.m. Men's 1500m finals
7:25 p.m. Women's 400m hurdles finals
7:30 p.m. Men's 400m hurdles finals
7:50 p.m. Women's 100m finals
7:55 p.m. Men's 100m finals
Tomorrow's events
9:30 a.m. Women's hammer final
5:15 p.m. Men's 110m hurdles prelims
5:30 p.m. Women's 200m prelims
5:40 p.m. Men's 200m prelims
6:00 p.m. Women's high jump final
6:00 p.m. Women's javelin final
6:10 p.m. Women's 800m final
6:15 p.m. Men's 800m final
6:30 p.m. Men's long jump final
6:30 p.m. Men's shot put final
6:30 p.m. Men's 10000m final
7:10 p.m. Women's 100m hurdles final
7:20 p.m. Men's 110m hurdles final
7:30 p.m. Women's 400m final
7:35 p.m. Men's 400m final
7:50 p.m. Women's 200m final
7:55 p.m. Men's 200m final
National Records
Male Events
100m 9.69 Usain Bolt Beijing, Aug 16, 2008
200m 19.30 Usain Bolt Beijing, Aug 20, 2008
400m 44.49 Roxbert Martain Kingston, June 21, 1997
800m 1:45.21 Seymour Newman Helsinki, June 29, 1977
1500m 3:39.19 Steve Green Victoria, Aug 28, 1994
3000m 7:55.78 Mark Elliot Luzern, June 24, 1989
5000m 13:33.10 Mark Elliot Koblenz, Aug 23, 1989
10000m 28:32.44 Mark Elliot Arhus, July 6, 1989
3000sc 8:52.82 Lionel Scott Indianapolis, May 4, 1985
110h 13.17 w0.1 Maurice Wignall Athens, Aug 26, 2004
400h 47.60 Winthrop Graham Zurich, Aug 4, 1993
Marathon 2:16:39.00 Derrick Adamson Philadelphia, Nov 25, 1984
HJ 2.34 Germaine Mason Santo Domingo, Aug 9, 2003
LJ 8.62 w0.7) James Beckford Orlando, April 5, 1997
PV 5.30 Jabari Ennis Coral Gable, March 16, 2002
TJ 17.92 W1.9) James Beckford Odessa, May 20, 1995
SP 21.45 Dorian Scott Tallahassee, March 28 2008
Discus 62.95 Jason MorganMonroe, LA April 28, 2007
Javelin 68.97 Robert Barnes Kingston, June 21, 2003
Hammer 61.48 Nigel Green Baton Rouge, May 11, 1996
Decathlon 8644 pts Maurice Smith Osaka, Sept 1, 2007
10.62/w0.7, 7.50/w0.0, 17.32, 1.97, 47.48
13.91/w-0.2, 52.36,4.80,53.61, 4:33.52
20km Race
Walk 1:40.11 Byron Williams Brighton, April 15, 1972
Relays
4 x 100m 37.10 Team Jamaica Bejing, Aug 22, 2008
(Nesta Carter, Michael Frater, Usain Bolt, Asafa Powell)
4 x 400m 2:56.75 Team Jamaica Athens Aug 10, 1997
(Danny McFarlane, Michael Mcdonald, Davian Clarke, Greg Haughton)
Female Events
100m 10.74 w1.3 Merlene Ottey Milan, Sept 7, 1996
200m 21.64 w0.8 Merlene Ottey Brussels, Sept 13, 1991
400m 49.30 Lorraine Fenton Monaco, July 19, 2002
800m 1:57.88 Kenia Sinclair Rethimno, July 21, 2006
1500m 4:01.84 Yvonne Graham Monte Carlo, July 25, 1995
3000m 8:37.07 Yvonne Graham Zurich, Aug 16, 1995
5000m15:07.91 Yvonne Graham Berlin, Sept 1, 1995
3000mst 9:27.21 Mardrea Hyman Monaco, Sept 9, 2005
100h 12.45 w0.8 Brigitte Foster Eugene, May 24, 2003
400h 52.64 Melaine Walker Beijing, Aug 20, 2008
HJ 1.90 Dianne Guthrie Harrisonburgh, April 11, 1992
LJ 7.16A w-o.1 Elva Goulbourne Ciudad de Mexico, May 22, 2004
TJ 15.16 w0.7 Trecia Smith Linz, Aug 2, 2004
SP 18.28 Kim Barrett Gainesville, May 29, 2004
Discus 53.58 Marlene Lewis Abilene, May 15, 1986
Hammer 63.75 Grettel Miller-Tjiroze Provo, July 7, 2001
Javelin 61.10 Olivia Mckoy Nassau, July 10, 2005
Hept 6527 Dianne Guthrie Knoxville, June 3, 1995
13.86w, 1.86, 13.80, 24.91...6.92w, 49.04, 2:20.82
Relays
4 x 100m 41.73 Team Jamaica Athens, Aug 27 2004
(Tayna Lawerence, Sherone Simpson, Aleen Bailey, Veronica Campbell)
4 x 400m 3:19.73 Team Jamaica Osaka, Sept 2 2007
(Shericka Williams, Shereefa Lloyd, Davita Prendergast, Novlene Williams)