Rosemary Parkinson, Contributor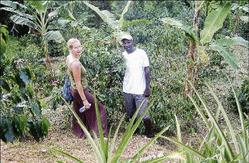 Liz and Painter talk farming. - Photos by Rosemary Parkinson
The Treasure Beach Ital Farmers Association (TIFA) was initiated as a response to the shift in Jamaican agriculture from one based on sustainability and wisdom to one based on chemical production. With the influx of industrial chemicals, Jamaican farmers 'unlearned' the farming methods of the past.
TIFA farmers are a tiny but fierce group based upon growing vegetables organically (i.e. no chemicals), trying to sustain themselves in a market flooded with cheaper foreign produce. Planting small yields, TIFA farmers continue to make huge headway but there are problems - money problems.
I interviewed Liz Solms (a young woman totally devoted to the cause). She explained, "The association started in the Treasure Beach section of St Elizabeth as a small cooperative of 'St Bess' farmers. I think it's important, and above all honest, to note that TIFA enjoyed great success since its founding in January 2006.
Unfortunately at present, the association is at a rest. Due to our very success, we grew quite quickly, emerging out of a cottage-industry model into too much supply and too little labour to get that supply to our local market! So in light of this, we've decided to 'pause' while money is raised to support a bigger infrastructure."
Where did you get funding from in the first place?
I first got funding from the Foundation for Sustainability and Innovation, a private foundation out of California. It is correct to note their generosity for this small and mighty endeavour but also to mention the limitations of donations/grants in general - we were given the seeds to grow, but it's been a constant issue of funds ever since. Real development and real infrastructure on the Government's behalf from the start would have made it, so we would not be at a pause right now, the market is there. We just need the finances to meet it.
Where are the main farms?
The main farm exists in the Little Park section of Pedro Plains, essentially the central farming district of St Elizabeth. The other farms are in Round Hill and Malvern.
What exactly has TIFA been producing?
Gourmet greens such as arugula, mesclun salad mix, romaine lettuce, bok choy, mustard greens, broccoli, carrots, tomatoes (heirloom and cherry varieties), sweet pepper, cabbage, basil, cilantro, thyme, cassava and chochoes. Once we have funding again, there's no end to what we can grow organically.
Who were you selling to and are you still selling?
We were and still sell to Jake's but we were also selling to local residents and guest houses.
How do you know that the soil does not have pesticide in it?
To be certified, you must document that your soil has not been sprayed for at least three years. In choosing locations, we looked for the most remote areas possible to farm without the harmful sprays of our neighbouring farmers impinging on our soil health. But in Jamaica, believe it or not, it's very difficult to find such virgin land, but we do our best.
How are farms monitored as to who grows what?
Many times the big problem is everyone growing the same thing at the same time.
The farms were monitored by Marlon Campbell, our association's leader and farmer. Because we are at a pause, sadly, he is leaving to work on one of the farm programmes abroad. He'll be back, but Marlon was the one who made sure the market was receiving what it wanted and the farmers were growing/harvesting accordingly. This was our biggest challenge, especially when the funding was up and I had to be involved only on a part-time level. Marketing is like a constant hustle and that should absolutely not be a farmer's job. So we're looking for general funding that would include hiring a marketing manager, so farmers can simply farm and a refrigerated truck to deliver.
Have you looked at Kingston as a market?
Kingston should be our biggest market and one that we have not yet tapped into due to our infrastructural constraints. When we are up and running again, Kingston will be our main aim with St Elizabeth being our smaller local sales. We would like, of course, to spread the organic message all over Jamaica.
Will organic farmers be at Calabash this year again?
The chefs among the organic farmers cook at events island-wide and are mostly based in rural Trelawny. The leaders of the group are old, wise Rastafarian men; Ras Simba and Bungo Steve. They have a prolific history of food preparation dating back to the '70s. They started Triple Eye, a small business making and bottling homemade roots and fruit wines. Recently reinitiated, products will be for sale at Calabash. Their pimento wine and fresh coconut oil are both fantastic. They were even growing cayenne pepper.
Everything is handmade, even their coconut milk is derived the traditional way. All will be at Calabash serving organic/ital meals. We hope everyone attending will support them and thank those who did last year.
TIFA must be saved! Anyone conscientious enough to help these farmers please contact Liz Solms: bananatree.consulting@gmail.com.
Calabash Literary Festival is from May 23 to 25 in St Elizabeth. See you there!
Ras Simba at Calabash '07.
Simba's Ital Stew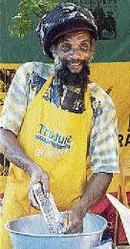 INGREDIENTS
1 pint broadbeans
The milk of one fresh coconut
3 cloves garlic
2 medium onions
4 ounces tomatoes
3-4 sprig scallions
1 sprig thyme
2 Irish potatoes
2 carrots
1 Scotch bonnet pepper
METHOD
Dice all vegetables and coconut, and place in a large pot, mixing in the coconut milk to create a broth. Add beans and all natural seasoning such as Scotch bonnet pepper if desired. Cook down to desired consistency, about 45 minutes to an hour.