Denise Reid, Gleaner Writer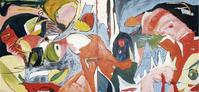 This colourful oil on canvas abstract painting entitled 'Diptych', depicts the flavour of Monique Rollins art exhibition, which is now on at The Shoppes at Rose Hall in Montego Bay. - Photo by Denise Reid
A neatly tucked away gallery in the Shoppes at Rose Hall, Montego Bay, is where Monique Rollins chose to host her first art show in Jamaica.
The 28-year-old artist, who fell in love with art from a very tender age, has focused entirely on the subject throughout her academic life. Rollins gained a bachelor of arts degree in painting from Syracuse University in New York, USA. She later attained a master's degree in fine arts and a Master of Science in art history from the Pratt Institute of Art in the same state. Monique has also studied in France, Italy and Spain.
"For this showing, I have spent a lot of time in Jamaica on holidays with my family here and I have so much nostalgia ..." Rollins declares. "What I love about Jamaica is that it's such a vibrant culture, and my paintings are about energy and movement and colour and form and life."
Indeed, the colourful abstract pieces sport colours which seem to draw and hold the attention of viewers. The pieces exhibited consisted of oil paintings, charcoal drawings on paper, watercolour and pen and ink on paper, which all give life to the walls of the gallery, and will continue to do so until April 20.
In explaining her apparent love affair with abstract art Rollins states: "Every artist eventually finds their own street and what excites them and what brings out their passion. I really love abstract art. It's been very exciting for me, it's a different way of creating relationships with form and with space and with colour."
Rollins has been a part of group showings and also has had solo shows in her hometown of Wilmington, Delaware, as well as Soho, New York. "Every place you go is different - there's a different feel for art and it's good to have showings in different places and see how your work is received everywhere," she tells The Sunday Gleaner.
How has her work been received in Jamaica?
"The show has been wonderful. My work couldn't have been received better," Rollins says pleasantly. "I got a wonderful response. These paintings are about energy and colour and form, and people responded to that right away," she relates. "Before I even had a chance to explain, they picked up on that, and that's a very exciting thing to have happen when you're an artist. To be communicating something and have people appreciate it. What's better than that?" asks Rollins.
When asked how long it generally takes to complete a painting, Rollins explains that the time varies, taking as long as a year in some instances, especially because she is a very intuitive artist.
"My response to art is not premeditated. I really like the art of making form and feeling it. They're very private and it's a basic feeling too. Sometimes a painting wants to be finished later and you have to let it do that - you really have to let them have their own life," she discloses.
Monique Rollins does not have a favourite piece from this showing. The amiable artist explains: "Every piece here is like looking at a page in my journal. I would have to say each one is very precious to me, because they are all a moment in the physical record of my life."