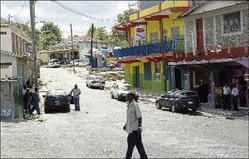 A section of the quiet town of Chapelton, in Clarendon. - Norman Grindley/Deputy Chief Photographer
In the centre of the town called Chapelton in Clarendon, Millicent Gunther is waiting on a taxi. She is a meagre, little woman who celebrated her 82nd birthday only a week ago. Much to the chagrin of her centenarian husband, William, she refuses to wear the spectacles prescribed for her a few years back, and so now she squints her way through her daily activities. She's holding two large, black plastic bags and leaning on a wall. Dressed in a floral skirt, blue blouse and white sneakers, Millicent paints a pretty picture. But, she is rather peeved at what's happening in front of her at the moment.
"Dem damn jackass likkle pickney! Why dem nuh put on no clothes when dem come a street? Is who dem think waan see dem naked body?" she shouted. Less than 20 feet in front of her, a group of teenaged girls seemed to have heard her ranting and walked away quickly. "Yes! Run go home go put on you clothes!" Millicent quipped.
Uncomfortable encounter
Our meeting happened quite by chance and was more than a bit uncomfortable. I was walking through the town, looking around for someone to speak with when I spotted the woman. I could tell that she spotted me as I was walking over to her. "What you want?" she shouted when I was still some way away, Millicent clutched the bags in her hand tightly and squinted in my direction. Well, a little left of me, actually. It was when I introduced myself that the muscles in her face finally relaxed and, if I'm not mistaken, she even came close to a smile.
"Mi waiting on a taxi fi go a mi yard. Two pass likkle while, but dem too chuck up. Mi caan go inna dem deh sinting. Mi a wait until one come dat have space inna it," she explained.
"Di edda ting is di loud music what dem playing. Mi nuh inna it babba! Dem sinting deh will deaf you before you time."
The heat was getting to the woman and it showed on her face. Without notice, the woman let out a thunderous belch that, I must say, caught me quite by surprise.
Chatty charlie
"Lawd di gas," said she, rubbing her chest. I told her goodbye and walked further down the road.
At a bar called 'McCalla's One Stop', I made the acquaintance of one Charlie Donaldson. He couldn't have been more than 60 years old and wore plaid trousers and a sweater vest, the kind you get as a gift, but never actually wear. Now old Charlie is quite a chatty fellow after he's had a few drinks. I asked him about life and Christmas preparations in Chapelton, as he leaned on a wall in the tiny bar.
"Look yah, Christmas is not what it used to be. Nowadays everything cost money and mi nuh have none fi spend. When mi likkle, we never spend money pan nothing when Christmas come. Everybody just share what dem have or get from dem family a foreign and everybody alright. Now it cost too much. Mi nuh badda wid it," said he.
He said he has been living in Chapelton all his life and spent all but one Christmas at home.
Quiet Christmas
"One year mi family a foreign send fi mi and mi go spend a week inna di cold. Mi caan go back! Up deh too cold. Yah so, when Christmas a come, like now, everything warm same way and di breeze just nice," he said, laughing.
Charlie said that when Christmas comes around in Chapelton, a tree is lit in the community, but not much else happens. "It quiet around here like any other time. Is just dat people more friendlier and nicer to each other. Christmas in Chapelton can be nice fi people like me who not inna di one bag a noise and excitement. We just easy round here and have a merry time," he said.
robert.lalah@gleanerjm.com