Avia Collinder, Gleaner Writer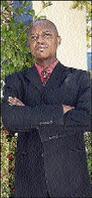 Glenford Smith, peak per-formance coach and author says that success is a science that needs to be taken seriously. - Ian Allen/Staff Photographer
Today, recognised as the creator of SOAR Technologies - a series of transformational and strategic programmes focused on the success principles (self-esteem, opportunity recognition, action-orientation, and resilience), Glenford Smith has come a long way from life on his father's farm in Clarendon where he grew up.
Thirteen years ago, as a young graduate of the College of Arts, Science and Technology (now the University of Technology - UTech), with a distinction in electrical engineering, and among the top students to graduate in 1992, he experienced a baptism of fire in his search for employment.
making his mark
Qualified and eager to make his mark in the world of work, he just couldn't get the job he wanted.
Smith had targeted Jamaica Public Service Company as the place he wanted to work, and having set his sight on the department and the specifics of what he wanted to do in the job, he applied. But, he was turned down countless times.
Time and again, over a period of eight months, he was told 'no vacancy' as he submitted application after application and made persistent calls while he suffered severe hunger.
He recalls, "I almost went barefoot."
Having nowhere to live, he became a fugitive on UTech's campus, where he had to sleep at nights and get up before dawn to elude the dorm warden. He did this for two months.
He had nothing to eat, and depended upon the kindness of friends. Eventually, he was sheltered by one of his friends who provided food for him.
When the friend left to work overseas, he stayed at the home, but was eventually thrown out with his belongings when the rent was unpaid. He was again homeless. Frustrated, disappointed, and "almost at his wits' end", he thought of leaving town and going back to his father's house in Clarendon.
As the pressure mounted, Smith eventually accepted an invitation from Jamaica Telephone Company, now Cable and Wireless Jamaica, for an aptitude test and subsequent interview, both of which he passed.
Smith recalls, "I was given the job and told when to come in. But, I thought about it and refused the job. That was not what I wanted."
He persisted in calling, visiting, writing - to anyone in JPS who could help him get in. After eight months, he was successful.
commendations
The engineer was to vindicate the faith that one person put in him by giving him the job. For 13 years, he distinguished himself at work, earning several written commendations, a merit award and citation for excellence in performance.
But, Smith says that he always knew that JPS was never going to be his ultimate destiny, because of an unforgettable moment during his days of deprivation just after finishing university.
He recalls, one Sunday at Mona Baptist Church in Papine, "I understood my life's mission and purpose was to help others find their inner power to overcome problems, obstacles, adversities and setbacks in order to make their dreams a reality."
It was a life defining moment.
He decided to become a teacher of success principles and planned to stay with JPS for 10 years and no longer. And denied redundancy at a time when others were being let go, he resigned after thirteen years.
Today, Smith is increasingly recognised as an expert in the science of success and human development principles. The engaging speaker and trainer specialises in self-motivation - the art of succeeding through action. His seminar series: Success through Action, Responsibility and Resilience (STARR) will run throughout the month of November in Kingston.
Smith has also spent the last two years completing the manuscript for one book on success and is close to completing another. He is now dedicated to life as a "peak performance coach". He believes his work will provide the encouragement that will lead to change lives.
avia.ustanny@gleanerjm.com