Rayon Dyer, Gleaner Writer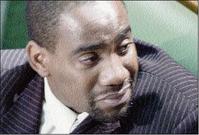 Kern Spencer, close to tears in the House of Representatives on Tuesday. His constituents in NE St. Elizabeth have mixed views on the controversial Cuban light bulb programme in which he is involved. - Rudolph Brown/Chief Photographer
The Cuban light bulb saga, involving former State Minister in the Ministry of Investment, Tech-nology, Energy and Commerce (MITEC), Kern Spencer, has iNorth East St. Elizabeth constituents.
Some of Spencer's constituents have said that if the former MITEC state minister's hands are found to have been in the proverbial 'cookie jar', then he should face the full brunt of the law.
Angelina Palmer, a resident of Rocky Hill, near the busy town of Santa Cruz, is one such resident. She has said that in light of what has been revealed, it is becoming clear that he is no longer credible as a representative of North East St. Elizabeth.
talk of the town
"The Cuban light bulb investi-gation is on everybody's lips. In the whole community, everywhere you turn, that's what everybody is talking about. I personally did not vote in the last general election; I think Bruce Golding is doing a great job so far. If public officials misuse taxpayers' money, they should be made to pay the consequences," asserted Ms. Palmer, from the front of her bar.
youth disappointed
She went on to say that many young persons, who were looking forward to working with Mr. Spencer, are now ashamed of the situation currently unfolding in Parliament.
Noel Gowdie, of Park Mountain, explained that he did not vote for the Member of Parliament but, along with his friends, had still been expecting much from his tenure in the post. However, Mr. Gowdie has now changed his tune. He added that Mr. Spencer should be held accountable if, at the end of the investigations, he is found guilty of impropriety.
When asked what his under-standing of the current issue was, Mr. Gowdie replied: "Kern Spencer, as a member of the former People's National Party (PNP) government, was directly in charge of the Cuban light bulb project, and no stone should be left unturned in this investigation. And, if anybody is to go to prison, 'go them go'. As a lay-man, that's my belief."
Over in the Braes River area, which is a PNP stronghold in the constituency, three women, who spoke to The Gleaner on condition of anonymity, said: "even if Kern should go to prison, like P.J. Patterson, he shall return some day to Parliament to represent his people. We are serious about this because we love Kern. Yes, he is a nice person," they said, in agreement with each other.
They continued: "We want to let Jamaica know that we will be conducting three full days of fasting to God on behalf of our MP, and we are confident that God will deliver him."