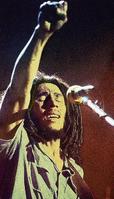 Bob Marley
Under the banner, 'The Best of the Century', international weekly pub-lication, Time magazine, voted the 1977 album, Exodus, by Bob Marley and The Wailers, Best Album of the Century. And almost simultaneously, the BBC selected Marley's song, One Love, as the Song of the Century.
In a citation supporting its selection of Exodus, Time proclaimed: "Every song is a classic, from the messages of love to the anthems of revolution. But more than that, the album is a political and cultural nexus, drawing inspiration from the Third World and then giving voice to it the world over."
Exodus
The tracks on Exodus are Natural Mystic, So Much Things to Say, Guiltiness, The Heathen, Jamming, Waiting In Vain, Turn Your Lights Down Low, Three Little Birds and One Love. Musicians who took part in these recordings include Aston Barrett, bass; Carlton Barrett, drums; Tyrone Downie, key board; Alvin Patterson, percussion; Julian Marvin, lead guitar; with backing vocals by the I-Threes.
Recreational facilities
The 430-room Ritz-Carlton Rose Hall Hotel opened its doors mid-2000. The hotel's rooms include 51 executive suites, The Ritz Suite, and The Ritz Club, which are accessible by elevator keys only.
Recreational facilities include an outdoor pool, a Jacuzzi, and two tennis courts, one of which is designed for exhibition matches. The hotel also features a championship 18-hole golf course.