John Myers, Business Reporter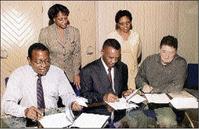 Representatives of Colgate Palmolive Caribbean and Pioneer Manufacturing and Distribution Company Limited (PMD) sign an agreement to finalise transfer of ownership of the Chloro-do Bleach brand. Seated from left are PMD company secretary Winston Barrett, PMD managing director Alfred Thomas and Colgate managing director John Douglas. Standing, from left, are PMD marketing executive Stephanie Mair and director Dr. Judith Leiba Thomas. - Contributed
Newcomers Pioneer Manufacturing and Distribution Company Limited (PMD) has acquired the Chloro-do Bleach brand from Colgate-Palmolive for an undisclosed sum.
According to PMD, which is the distributor for Guylian Chocolates, Nantucket juices, Turbo Plus drink mixes, Clabber Girl baking agents and Bactex soap, the brand was acquired after six months of intense negotiations.
Non-disclosure of sale price
The companies have a confidentiality agreement about non-disclosure of the sale price. It is understood that Colgate has plans to sell other brands and is wary that the current deal could influence the offers it gets on the other assets.
The signing of the sale agreement took place last Thursday at the law offices of Myers, Fletcher and Gordon in Kingston.
Managing director of PMD, Alfred Thomas, said it was a proud moment for the one-year-old company which, he said, outbid other established operationsfor the brand. "The Chloro-do Bleach is a winner," said Thomas said after the signing.
He said a recently commissioned survey by his company showed that eight out of 10 housewives recalled the brand and were anxiously awaiting its return to the shelves.
The PMD boss also told Sunday Business that Chloro-do has about 30 per cent of the bleach market, behind other popular sellers such as Chlorite, Ajax and Chlorax, but projects that it would surge to pole position in a year's time.
Chloro-do is expected back on the shelves in another six weeks with "a new and improved formula".
The bleach was originally developed by Mead Johnson in the 1970s but was later sold to Seprod.
The brand was again sold to Colgate-Palmolive in 1996, which also acquired the Castile, Mildex and Sudsil brands from Seprod at the time.
john.myers@gleanerjm.com