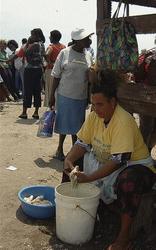 A fish vendor in action.
In the shade of a tall, withering mango tree, Inez sat with a knife in one hand and a small fish in the other. On the ground in front of her was a pink plastic container filled with water and what looked, from where I was standing, like more fish. There were flies circling the woman's head as she dipped the fish in the water and then scraped it with the knife. The sun was high in the sky and the smell of the fish was overwhelming.
"So mi tell him dat it nah go work. Is either him a go start follow what mi tell him or mi send him back a country go live wid him granny," Inez said to a slender woman leaning on the tree next to her. Both women were wearing navy blue aprons and shoes made of rubber. Their heads were wrapped with colourful pieces of cloth and they seemed well engrossed in the conversation they were having when I walked up and interrupted them. "Hello sar," said Inez, lazily, as she dropped another fish into the water with a splash.
I came across these women at the well-known Old Harbour Bay fishing beach in St. Catherine. I introduced myself to the pair and told them I was interested in learning about the day-to-day life on the beach.
Usually quiet
"Well most days everything quiet and you will have a one or two people come here come buy fish or fi bathe inna di sea, but it nuh really busy until weekend time," said Inez.
"Mi tell you sar, anyhow you ever know how dis place used to pack up one time, you woulda frighten. Yes man, dis place used to carry di swing," she added, while using the knife in her hand to scratch at an itch on her left knee.
She looked up at her friend who was leaning on the tree.
"Joyce, you memba one Chrismus when di place did pack and Joe a bruck him neck fi fry di fish fi di people dem? Whoi! When di crowd start halla fi dem food, my bwoy ah run up and down and neva stop till him kin-pupa-lick ova di table and lick ova di whole a di fish dem! Heh hey!" she laughed with her belly jiggling up and down. Her friend Joyce let out a chuckle as well.
"Yes man. Most of di people dem who sell fish here been doing dat for a long time, so we all know each other. Di beach not as lively like it was one time but it still not so bad. I live in Old Harbour so it easy for me. My mother used to sell fish so is something dat mi know bout from long time," said Joyce.
"Mek me call one a di fisherman dem mek him tell you how di fishing ting go," she said and got up slowly from where she was sitting and walked over to a nearby shed.
"Byron! Put on yuh shirt and come talk to smaddy!" I heard her shout. Soon, she returned with a skinny, bald headed man with a limp. He was about 40 years old.
He forced a smile and introduced himself as "Byron, di numba one fisherman". Inez told him to tell me of life as a fisherman in Old Harbour Bay.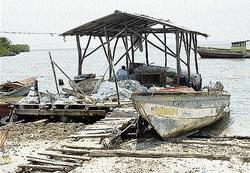 A section of the Old Harbour Bay fishing beach. - photos by Ian Allen/Staff Photographer
Not easy
"Well it nuh easy still, you know. You haffi know what you doing or you dead fi hungry. I doing dis ting from mi eye deh a mi knee so mi nuh know how fi do nothing else. You have some hurry come up bwoy love talk bout dem a fisherman but dem nuh really understand di ting," Byron said.
He asked me to walk with him over to where some fishing boats were stationed. I did and once we got there, he bent down and tapped on the side of one of the boats. While he was doing this, the waves came right up to my ankles. "You hear dat?" he asked, looking up at me. I was paying more attention to the water in my shoes, but I said yes anyway. "Yes man. Dat is disound you want to hear when you build a boat, man. Di best tree fi use is di cotton tree, but some man build boat wid anything. Dem a claffy. Dem nuh know di real ting," Byron said.
With some prompting from me, we left that boat and went in search of drier ground. So, in the shade of a small zinc shed about 50 feet away, Byron continued his explanation.
"When you is a fisherman, you just haffi tek life easy. When everybody deh pan land a stress out ova politics and gunman, we deh a sea a work. When dem a eat dem fish dem nuh know di work behind it. Everything alright though, a just di livity!" he said.
Send comments to: robert.lalah@gleanerjm.com