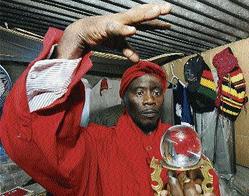 Joseph looks into his crystal ball to see just what might be happening in the near future. - photos by Ian Allen/Staff Photographer
He's perhaps the most famous, feared and at the same time most sought after man in all of Manchester. Joseph the obeah man has developed quite a following among townsfolk in his quiet community of Walderston and at the same time is well known among diplomats and bureaucrats from more elegant upper St. Andrew addresses.
There have been many tales of Joseph sprouting fire from his fingertips and healing his clients of the most deadly diseases known to man with just a snap of his fingers and the chanting of a few psalms. One woman said she witnessed him levitating one sunny Sunday afternoon.
But despite these stories and the fact that he keeps a crystal ball at his bedside, Joseph isn't your run-of-the-mill obeah man. Sure, he's known around town as a powerful science man, but when photographer Ian Allen and I paid a visit to his small, wooden home in the cool hills of Manchester recently, he was quick to point out that obeah is not all that he does.
It's called white magic
"I know about obeah, voodoo, Arabic and Kabbalah. White magic is what it is called. Any problem you have I can solve it," he said.
Now, as you perhaps can understand, standing in an obeah man's room was a bit unsettling at first. His house is close to the roadway where he met us. We followed him down a hill before we came across a small, blue, wooden building. He took us to the back of the building and pushed open a wire-framed door. The walls of the room were zinc and wood and there were writings and drawings of symbols and numbers done in red ink all over the walls. There was also something of a price list for the services that Joseph offers. According to the writings, $700 will get youa palm reading or a crystal ball read-up.
"Come in man, you are welcome here," Joseph said as he led us into a small room. Inside was a bed, a chair, a stool, a table and dozens of photographs pasted on the walls. On a small shelf were many books and a red candle was resting on the table. I noticed a canister, the kind that normally contains insect spray. Only, this was no insect spray. There were drawings of little devils on the container and it was called something like 'go away evil'.
"This is where I do all the work," Joseph said.
"Most days you come here you will see a big crowd. People come here from all over the country and even other countries because of all that dem hear about me. Big police and government workers come here to see me," he proclaimed with a wide grin.
There was a towel hanging on the wall beside a stethoscope and a red rose. He told me to make myself comfortable. I silently contemplated if that was at all possible, especially considering that he was dressed in a long, red robe and his head was wrapped with a red cloth.
I asked Joseph about the services he performs for his clients.
"You name it man. Anything you want done for you I will do it. If you want a visa I have something for that. If you woman leave you I can get her back for you. If you have a court case I will deal with that too," Joseph pounded his fist into his palm as he spoke and his eyes widened with excitement. He explained that $14,000 will get you a visa to any place in the world you'd like to visit and if the love of your life was silly enough to think she could leave you and go cavorting around town with another, he would get her back for you for a measly $7,000.
I asked Joseph how he got into the white magic business in the first place.
"Well, when I was 15 somebody try work science on me. Dem put a powder in my hymn book at church and it make my head feel like it was going to tear off! I was sick bad. I decide that I wouldn't want anybody to have that power over me again so I start to read all kind ofbooks. My father was a great science man himself as well so I learn from him and carry on the tradition. I was the only one of his children who carry on the teaching and the work for him," Joseph said.
He reached behind his bed and pulled out a small, black plastic bag. "These are some of the herbs I use," he said.
Joseph showed us bottles containing liquids that he said could cure cancer and mend broken relationships. "I perform any task the people want. If you sick I have something to heal you. Once you come here and I read you up then I can tell you how to proceed," he said.
I asked Joseph to tell us about one of the more difficult tasks he's been asked to perform.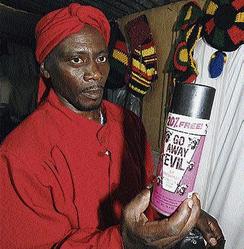 He says he's got a solution to any trouble you may have.
Take out duppy and demon
"Well you know I will take out duppy and demon out anybody because I am also an exorcist. Well, one day dem tell me that a duppy was in a young boy up the road so I take up my crystal ball and go up there. Well, when I reach I see about 70 people gather around and tell them to move. I look at the boy with the demon and realise that is the duppy of a Indian stillborn baby was in him. Anyway, I chant it out of him and when the people who gather around see what I do dem nearly faint! Dem know dat anybody who conquer a coolie duppy must powerful!" Joseph said.
Just then, Joseph's cellphone rang and he reached into his pocket and pulled it out. I could hear the voice of the woman on the line asking Joseph for more of the juice he had given her the week before.
When the phone conversation was over Joseph explained that he had to go attend to some clients who had been waiting, so we said our goodbyes and were off. I watched as Joseph slowly disappeared down the hill, closely followed by a slim woman with a cross expression on her face. She was carrying a man's shirt in her had and was whispering obscenities to herself. I wondered what services she wasabout to ask Joseph to perform.
robert.lalah@gleanerjm.com