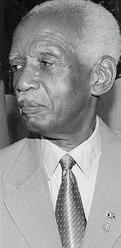 Chief Justice Lensley Wolfe will be stepping down from that office on June 18. - file
The Jamaican Bar Association (JBA) is calling for the Government to request its input and that of other stakeholders in the Justice system in the selection of a new Chief Justice.
Chief Justice Lensley Wolfe will be retiring on June 18.
Solicitor-General Michael Hylton, Q.C., who was being proposed to be the new Chief Justice, withdrew his name last week. It is now reported that Appeal Court Judge Zaila McCalla is being proposed as the new Chief Justice.
The JBA said the Jamaican Justice Systems Reform Task Force, in its preliminary report, stated that, "A modern justice system will ensure that the best candidates are appointed to the Judiciary" and that "the lack of transparency in the process is unsatisfactory in that it is structured so as to pose a real risk of such interference".
Commenting further, the JBA said "this necessitates a more open process in the selection of a Chief Justice, including dialogue with the relevant stakeholders".
The JBA states further that, at this time in the nation's history, "when we are promised fundamental and long overdue reforms", it is critical that whoever is appointed to this important position should be a person of complete independence, proven intellectual ability and administrative skills.
More open system desired
"While the association does not doubt the qualification of the person so far mentioned, it is of the view that the process can only be enhanced by a more open system in the search and selection process as now occurs in the United Kingdom and South Africa to name two countries," it emphasised. It said that was necessary in order to find the best candidate.
It said the appointment of a Chief Justice was of such importance to the judiciary and to the functioning of the system of justice that the association and other relevant stakeholders should be consulted for their opinion and also asked to name possible candidates.