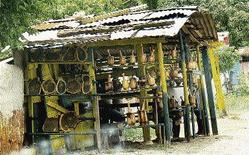 One of many packed stalls in Sandy Bay, Clarendon. - photos by Robert Lalah
Sheena was talking at what seemed like lightning speed to the young man sitting on the tree stump beside her. His eyes were droopy and he looked like he was on the verge of sleep. But Sheena didn't seem to notice or at all care.
"So when she come now she tell di bwoy fi come outa di house and di bwoy just gallop weh! Hee Hee! It was one piece a sinting inna di late night you see man!" she said, slapping her palm against her knee as she laughed loudly. The man she was talking to cracked a smile but didn't move much more.
The two were sitting in front of a wooden stall by the side of the road in Sandy Bay, Clarendon. On the stall were a bunch of hand crafted items and a few bottles filled with a brown, thick liquid. I had arrived there only moments before and was standing in front of the two for a couple minutes, but because of how engrossed they were in the conversation, well, Sheena was anyway, they didn't notice me until I spoke up. Sheena whipped around.
"Hello please?" she said, looking up at me quizzically. She had magnificent brown eyes and her hair was jet black. She had a pleasant smile and was wearing a pink dress.
I introduced myself and she offered me a seat. I asked her if she was selling the items on the stall.
"Yes man. Is mi baby fadda mek dem and so me stay out here most days and sell dem," she said. "Him get a work pan a site so him caan come out here himself. Mi do some hairdressing but tings slow up now so mi have di time," Sheena said.
I asked her about the items she was selling.
"We have all kinda natural roots drink. Him use strong back and some other herb and mix it up and make di drink. Is him make dem sinting deh too. People use dem fi crush up spice and dem ting deh. Mi nuh memba what dem call it still," she said.
Selling in Sandy Bay
The fellow who was sitting quietly on the stump next to Sheena suddenly sprung to life. "Hello boss. You want one fi buy?" he said. When I responded in the negative he made a sucking sound with his mouth and then closed his eyes again and seemed to drift off to sleep rather quickly.
"Nuh pay him nuh mind," Sheena said. "Him nuh have noting fi do so him just lay down here whole day."
I asked her how long she had been selling in Sandy Bay. "Well mi born and grow right here so. Mi used to sell some mango and star apple but few years ago di whole place nearly wash weh. One big flood nearly mash up di whole place. When dat happen it mash up mi stall so mi never bother wid di selling fi a likkle while. When mi get pregnant mi baby father start build dem sinting yah and now dat di baby born and mi baby father get a work mi decide fi come back," Sheena said.
"See him yah a come too."
Baby father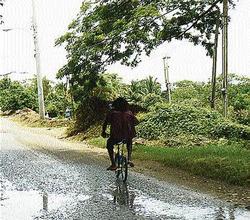 Preddy riding away in disgust.
I turned around and noticed a shirtless, dreadlocked man who Sheena called Preddy, riding a bicycle in our direction. He stopped right in front of us and hopped off.
"Yes mi bredda," the man said and then turned to Sheena.
"You done cook?" he asked.
"How mi fi cook and you know mi deh out yah from morning? It look like you lick you head pan di site!" she quipped.
"Cho gyal! Dat's why mi caan badda wid you yuh know. From mawning mi tell you fi deal wid a lunch fi mi and you nuh do it. Mek you so lazy? Sun-hot a kill mi whole day and mi just waan likkle food and caan get it. Cho man!" the man shouted before he hopped back on to his bicycle and rode off at lightening speed.
"Ah wah do Preddy man? Him want a big lick," Sheena said under her breath.
After she had calmed down, I asked her how she found living and working in Sandy Bay.
"Well, it alright still. If you sell out here you will manage because plenty people pass here when dem going country. Nothing nuh really wrong wid here, it alright," she said.
At this point a car pulled up and an elderly woman poked her head through the window. "How much you selling the roots drink for?" the woman asked. Sheena got up and walked over to her and so came an end to my visit to Sandy Bay, Clarendon.
robert.lalah@gleanerjm.com