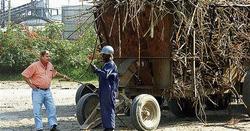 Peter McConnell speaks to a worker adjacent a laden cane cart on the Worthy Park Estate in Lluidas Vale, St. Catherine. The estate has entered the market for branded rums. Red Stripe will distribute the new 'Rum-Bar' - file
Two years after it entered the rum market by establishing a distillery and exporting bulk rums mainly to Europe, the McConnell family-owned Worthy Park Estate is entering the Jamaica's notoriously tough market for branded rums with an over-proof white spirit, called 'Rum Bar'.
Worthy Park yesterday announced the appointment of Red Stripe, the Diageo subsidiary as the exclusive Jamaican distributor of the product, which will have the difficult challenge of competing primarily with the dominant Wray and Nephew brand.
Worthy Park operates perhaps Jamaica's most efficient sugar factory, but like other facilities here is under pressure to reduce costs in the face in price reductions in European Union markets where Jamaica and other Caribbean countries enjoy preferences.
Two years ago Worthy Park, as part of its diversification programme, commissioned a distillery and began exporting aged and un-aged bulk rums.
"We are now entering over-proof rum category which enjoys the highest sales volumes in Jamaica and have therefore decided that Red Stripe would be the best distributor of the product," said Gordon Clarke, a Worthy Park director and distillery manager.
Jamaica's rum market is dominated by Wray & Nephew Group, whose holdings include the Appleton Estate sugar factory, which produces a rum by that name.
But it is is over-proofed white rum, popular in bars here and considered a Jamaican cultural icon, that is perhaps its best-selling product domestically.
Red Stripe, which recently took over the distribution of its parent company's spirits, such as Johnny Walker Whiskey, Smirnoff Vodka and Bailey's Irish Cream, says that the addition of the Worthy Park product will help to enhance the efficiency of its distribution portfolio.
"The strength of our marketing and distribution capabilities has distinguished Red Stripe as a market leader in the total beverage alcohol business," said Red Stripe's boss Mark McKenzie.
"White rum is a favourite of many Jamaican consumers and Rum-Bar rum is a great addition to our spirits portfolio."
business@gleanerjm.com