Kavelle Anglin-Christie, Staff Reporter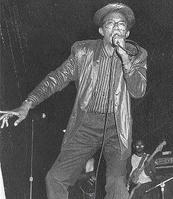 FOR THE WOMEN: Edi Fitzroy performing at the Sistren Celebration on Saturday night, March 7, at the Cultural Training Centre. The concert was to celebrate International Women's Day. Special guests at the function were women workers from the Kingston Free Zone. (1987)
Singer Edi Fitzroy is perhaps most known for the hit, Princess Black, done in celebration of the black female, still little has been seen or heard of this artiste over recent years.
He was born Fitzroy Edwards in Chapelton, Clarendon, and says his initial interest in music came because his father played records for a sound system. Later on Edi attended the West Indies Commercial Institute to study accounting and later worked at the now defunct Jamaica Broadcasting Company, he left to pursue music full-time. He says he has no regrets.
Sunday Gleaner: How did you get your first big break?
Edi Fitzroy: After I graduated from West Indies Commercial Institute I went to work at JBC and during my lunch breaks I usually went to the studio to sing over some songs with the help of Milford Edwards. That time I wasn't recording or anything like that, but I would pass through dances and hold the mic. Then one day Pam Hickling was passing and heard me singing in the studio and she said, 'You sound good' and wanted to record me. The first song we did with Mikey Dread in 1978 was Miss Molly Colly.
What did your family think of your decision to pursue music?
During that time I was contemplating working at JBC and I was doing a little tour during my vacation. Then in 1995 or 1996 I decided to go full-time into the music world fraternity. No regrets. Sometimes you just have to do what's best for you. In the long run everyone can benefit, but it was a hard choice.
Did you try to sound like Jacob Miller?
Well, he was one of my idols. He used to live down the road from me when I was living in Kingston 13. As a young man I liked his style. If you respect and look up to someone then automatically you are going to begin to emulate them. He was one of the best vocal and energetic artistes at the time. I had and still have a lot of respect for him.
Do women still respond to 'Princess Black'?
Universally. The song will never die. The first time I went to Africa the song was like the national anthem. If I went somewhere and I don't sing that song, it's like I'm not performing. When I wrote Princess Black I wrote it for my mother. She was like the man and the woman in the home; she was really tough.
Why don't you perform often?
It depends on how the shows come in. Now there are a lot more artistes out there, so there is more competition, and it also depends on airplay. Now I'm taking career on a more tight script. I give thanks for the shows that I get, not only in Jamaica but overseas.
Is it for the same reason why you aren't on any vintage shows?
In some ways, because it depends on the promoter and it also depends on agency you're with ... I teamed up with Jerome Hamilton at Headline Entertainment.
What was your inspiration for 'Prison Life (It Nuh Sweet)'?
Based on the time, so many people used to come up to me and say 'you ever go prison?'. No I've never been to prison, but is just based on what I see. So many youths then and now locked up in prison. I don't know if is a lack of guidance or love. They need to focus on life and the gun is not way to go.
Was it on Roots that youfirst got behind the mic to host a programme?
Yes, it was the first time , and it was the then general manager Tony Young who inspired me in 1998.
Are you a Rastafarian?
Yeah, for sure. My dad was one of the first Rastafarians in Chapelton and at that time they used to be called 'Blackheart Man' and people used to be scared of them. So I've really been a Rasta from birth.
Do you think your music is as embraced as it should be locally?
Yes. Anywhere in Jamaica you go people know about me, even though some of them will say 'you caan buy a car now?' But material things are not my aim. I am a kind person and I enjoy giving back to people.
If you could change one thing about the music industry, what would it be?
If you plant corn you cannot reap peas.The music going out there needs to be positive ... The master of music is King David and we should follow in his footsteps. I would like to see more positive music going out to the youths.
What has been your most memorable moment in your career?
It was when I went to Zimbabwe in 1998 with the Rhythm Kings band. It was like my head was going to explode. It was a place that I had read about in books at school - the land where we came from in the passage of slavery and I was able to put my foot down. It was unexplainable, like standing in love for the first time.
What are you working on now?
"I'm trying to promote my album (Hold The Vibes). It is now number five on the Florida charts and number six in Los Angeles. It is also doing well in Europe, Japan and the Caribbean. It's three months old right now, but so far the fans have been very supportive and I just want to thank them. They have been supporting me through the years and I hope they will continue. Nuff respect to all the fans who stick with me through thick and thin.
Inspiration die with son
Do you mind talking about the death of your son?
No, it's OK. Rory was someone everyone could go and talk to. People who came to funeral, some of them, I didn't even know. He was a very bright boy. He was grade captain in fourth form and to achieve that you have to be doing academically well.
When and how did it happen?
When he went to the river with some friends. He got into some difficulties and drowned June 20, 2003.
Over the years, how have you coped?
Well it's been hard. It was my only son. I have five girls, one boy, so it was a nerve-wracking experience and I can tell the world or Jamaica that when a parent loses a child it is not a nice feeling. You will never forget the feeling; it will always be there. Sometimes tears will start to flow and you don't know from where. But the Father knows best and it is not really up to you to question. Until today it still rests on my head like a 1000 pound weight of steel, but with the help of friends, family and the strength in street, I survived. It takes some time before it becomes a memory, but it's still fairly fresh.
How did it affect your career?
It was devastating during the 2003-2005 period. During that two-year span I wasn't doing any recording and I couldn't write. Even if I'm on a show, I wasn't really there. It's what you have to do to survive, but I couldn't give 100 per cent. Now it is more a show for Rory. Sometimes when I finished working I felt like I'm in another world and crying out for help, but no one could help me because they couldn't understand. But the bigger man in Zion is giving me strength to carry on.
Have you poured any of that emotion into your work?
Well yes, and this (new) album is livicated to him. He had always wanted me to reach the top, the pinnacle of life. He wasn't a material person, but he wanted me to succeed. Rory was someone who took a deep interest in my musical career. He is at present with me, though not physically - spiritually.