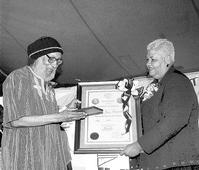 Professor Kamau Brathwaite, this year's winner of the Institute of Jamaica's Musgrave Gold Medal for Literature, accepts his award from Aloun N'Dombet Assamba, Minister of Tourism and Culture, at the ceremony held yesterday outside the Institute of Jamaica building on East Street, downtown Kingston. - Winston Sill/Freelance Photographer
Barbadian writer, Professor Kamau Brathwaite, was yesterday awarded the gold Musgrave Medal, at the annual awards ceremony, held outside the Institute of Jamaica's East Street office, downtown Kingston.
The wind blew, then the rain fell and the highlight was arguably singer Gem Myers' medley of classic Jamaican songs, but Prof. Brathwaite remained upbeat upon receiving his award.
He joked that the ceremony should retire to King's House for 18th century hospitality of the past. In fact, the Musgrave awards were established in 1889 as a memory to past Governor of Jamaica, Sir Anthony Musgrave, who established the institute in 1879, four years before he died.
A griot, poet, historian, essayist and cultural theorist, the Barbados-born gold medallist is renowned for his celebration of the Caribbean identity.
High time
"I think it is high time, and I think we have had this discussion already among ourselves, that this concept of gold, silver and bronze be looked at all over again. I don't think art can accept the hierarchy of one, two, three past the post," he said.
He said the awards should be made in front of a wider audience - as it was, this year's audience was seated on East Street, thanks to a legal roadblock - with less emphasis on the giving of medals and more on the awarded work itself.
Laura Facey-Cooper was awarded a Silver Musgrave Medal for sculpture. She is known for creating the controversial Emancipation Park statue. Also awarded silver were the Georgian Society, for heritage preservation; Reverend Dr. Ralph Hoyte for religion and community development; Professor Eccleston Kean for biochemistry; Franklyn McDonald for environmental science, and Dr. Velma Pollard for literature. Bronze Musgrave Medals went to Clarence Brodie for journalism, and Norma Segre for library service and community development.