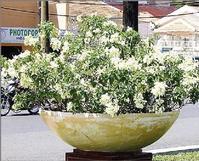 The bigger the pot, the better. PHOTOS BY RITA ELLIOTT
IF YOU want to make a big impact in your landscape, consider 'super sizing' your pots to create works of art. Indeed, large containers with large plants is the key to create arresting focal points.
Plan your container as you would a typical garden bed. If the container will be viewed from all angles, place the tallest plant in the centre. If pot is placed against a wall or a background of greenery, taller plants should be placed at the back of the container. Shorter varieties go in front. And medium-size ones in the middle.
PLANTING A LARGE CONTAINER
When working with large containers, planting planning and preparation are even more important than for an in-the-ground bed. That is because your plants will have a much more limited space for roots. Because even though large containers are watered more often than regular beds, it is common for soil to become compacted. Follow the tips below to ensure success with your large container gardens.
BIG POT TIPS
Select containers that are attractive in their own right, and that have large drainage holes, preferably on the sides of the pot rather than bottom. In general, the larger the container, the better. Take advantage of the larger volume by planting small trees or shrubs.
Use a planting mix suited to containers. You can buy pre-mixed blends, or make your own if you need large quantities and have the time. A typical mix would includes equal parts of peat moss and either vermiculite or perlite; you can skimp on the vermiculite or perlite to save a little. You can also add compost. If you have good garden soil, throw some in the mix for plant's benefit. Don't overdo it, though, as garden soil is heavy.
Set the container where you want it before you start filling it. To reduce the amount of planting mix, you can add empty soft drink cans, well-rinsed and crunched to the bottom of the container. Mix some granules of slow-release fertiliser into the top six to 12 inches of potting mix, depending on the instructions at the back of the package.
Water your container when the top couple inches of soil dries out. Drench the soil until water runs out the drainage holes. Feed your plants with a water-mixed fertiliser about once a week, choosing a type made for flowers.
For the fastest results, choose plants growing in four-inch or larger containers. For a display that will last several years, choose a large perennial to anchor your garden, then surround it with showy annuals each spring. Be sure you include a variety of plant heights; you can even train vines up a trellis placed in the pot.
Trailing plants are great for adding interest below the rim of the container.
Plant list: Our Jamaican climate is extremely hot and this must be taken account of when selecting plants.
Hibiscus ­ canna ­ plumbago ­ greater periwinkle
Nasturtium ­ trailing star jasmine ­ crown of thorns ­ ranunculus
small fruit trees such as lime or kumquat tree ­ dwarf conifers
These plants will create shade at their base; a perfect spot to slip a colourful bunch of impatiens.