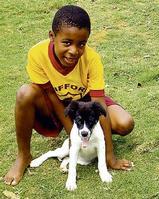 Rodari Sterling knows what it is to give his dog Mitsy some TLC, that's why he is such a happy boy.- CONTRIBUTED
Pets can create valuable and memorable experiences for children.
ACCORDING TO family counsellor and director of Help for Parents in Kingston, Dr. Sharon Johnson, having a pet is an opportunity for children to learn about taking care of someone or something other than themselves.
Many children, especially the youngest in a family, do not get the opportunity to contribute to the general running of a household.
Having a pet can teach children the concept of being responsible. This happens when parents encourage children to take on tasks they can handle in the process of caring for their pets.
Harder jobs such as preparing dog food and grooming of pets can require an older child's involvement. Encouraging younger children to remember that animals need to be fed and to assist parents or older children with the job can create a sense of responsibility.
Messy jobs such as cleaning a birdcage which might be done by a parent allows children to observe or take part in small ways so that they will eventually become competent with the task as they get older. Parents can teach children how to take care of pets as opposed to taking care of pets for their children.
Children of all ages and specifically the single child can benefit from the companionship animals provide whether they are as soft and cuddly as rabbits or if they are fish in a fish tank. Children enjoy the feeling of ownership that having pets can give them.
Many children spend time playing and interacting with pets instead of watching television or playing video games. Children who feel this sense of ownership with their pets, spend time with them when they are feeling sad, thoughtful or otherwise. Some children report that they talk to their pets.
The bonding that a child can experience in having a pet can be useful to his or her emotional development. Even losing pets to death, or by other means can also teach children valuable and painful lessons about life and living when parents guide and support the process.
Acquiring a pet can be an educational experience for children when parents:
Help children research and learn about their animal.
Help children to find information on proper care and grooming, handling and feeding of their pets.
Encourage interaction between the animal and the child.
Set rules and boundaries for where pets may our may not go in the house and in the yard.
Encourage children to take care of their own pets to the best of their ability.
Get involved with the child and his or her pet when extra guidance and support is needed for care and upkeep.
---
Information provided by Dr. Sharon Johnson, director of Help for Parents in Kingston. Email hfp@tropicomltd.com