David Baugh .... living his father's dream
published: Sunday | April 9, 2006
Adrian Frater, News Editor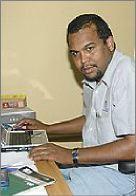 David Baugh, director with special responsibility for technology
WESTERN BUREAU:
THE COMMON saying, ' the chip never falls far from the block', seems quite applicable if one was to make a comparison between David Baugh and his father Balfour Barrington Baugh, the founder of the Jamaica Citadel Insurance Broker Limited.
Like his dad, the astute David is a graduate of Cornwall College, a fiercely proud Montegonian, a man with an undying passion for the insurance business and a member of the staff at Jamaica Citadel, which he joined in 1997.
While his portfolio responsibility is director with specific responsibility for Information Technology, the younger Baugh readily admits that because of his total commitment to the company, he has also developed a fair level of competence in other areas of the business.
CLOSE RELATIONSHIP
"I have also had a very close relationship with my dad and I felt like a part of the company long before I joined the staff," said a smiling Baugh, who is absolutely delighted to be working with his father. "Like my dad, I am totally committed to Citadel and I tried to apply myself in any area I can help to move the company from strength to strength."
Unlike former years when he was actively involved in Motor Sports and devoted a great deal of time to its administration in western Jamaica, today young Baugh's passion revolves solely around building Citadel, which he sees as a company with enormous untapped potential, which he is anxious to exploit.
"Citadel has done extremely well, especially when one considers its humble beginning," said Baugh. "However, I believe there is a lot more room for improvement and expansion and that is where I am focusing my attention at this time."
STRONG COMMITMENT
While he retains a strong commitment for his family and plays an active role as a part of the Cornwallian 80s Reunion Committee, the young Baugh is consumed daily by his drive to ensure that the enviable family-type atmosphere at Jamaica Citadel remains a central component of the organisation.
"My personal vision for Citadel is that every member of staff will ultimately see him or herself as a stakeholder in the company," said the visionary Baugh. "Once staff members see themselves as an integral part of the company, they will better see the team to keep our customers happy and satisfied."
Based on his sound knowledge of the operations at Citadel and his solid business etiquette, there is absolutely no doubt that the younger Baugh has both the vision and ambition of his dad, which positions him strategically to play an influential role in the future of the company.